World Cup
The World Cup rise of Gabriel Jesus: From playing on the streets, to being painted on them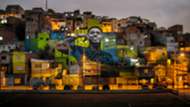 Five years ago, Gabriel Jesus was playing football on the streets of Brazil. Now, he's painted on them as he leads Brazil's World Cup charge in Russia. 
When the last World Cup was being played, Jesus had only just signed his first professional contract with Palmeiras, as the Brazilians would be sent packing from their own tournament in humiliating fashion by Germany in a 7-1 semi-final loss.
Since then, the striker has lived up to his biblical last name, rising through the football ranks in miraculous fashion and heads to Russia after claiming the English Premier League title with Manchester City.
While he's now playing on the biggest stage of them all, Jesus' footballing roots will forever reside on the roads of Brazil. 
"I began playing football on the streets," Jesus said.
"My mother gave me a ball and from then on, there was only football in my life."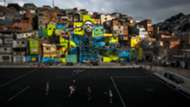 Fittingly, a huge mural has been erected of the now 21-year-old on the streets of Brazil as he looks to lead his nation to some redemption in Russia.
The stunning piece of art, a sign of the skill his countrymen have both on and off the football pitch, according to Jesus. 
"Brazilians are very creative, not only in football, but in life as well," he said.
Check out Jesus' journey and the mural coming to life in adidas' video below.