Ligue 1
From Ligue 1 to superstardom: Ronaldinho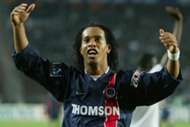 League titles in Italy and Spain, a Champions League, a Copa Libertadores, a Copa America and the World Cup. Two-time World Player of the Year Ronaldinho did it all.
And yet it is not what he did that will be remembered, but the way he did it.
Many football fans likely won't recall exactly how many La Liga crowns Ronaldinho claimed, but they'll never forget the passes he played with the small of his back, the elasticos, the chapeus, and the overhead kicks.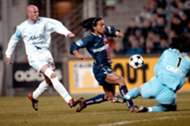 The back-heels, the stepovers, the nutmegs and the no-look passes are what will echo in eternity, fossilised for generations to come in neat, flashy YouTube compilations. 
Ahead of his 2008 switch to AC Milan, the great Brazilian journalist Juca Kfouri said he feared Ronaldinho had become more of a showman than a footballer. As usual, Kfouri was right, and he'd hit on exactly what made Ronaldinho universally adored.
He joined PSG in 2001 in controversial fashion, walking out on Gremio when his contract expired, leaving the Porto Alegre-based club to receive a nominal fee of around €5 million for one of the most talented teenagers Brazil had seen in decades.
He would hit 17 goals in 55 Ligue 1 appearances over a couple of years with the capital club, and his lone UEFA Intertoto Cup 'title' hardly makes for the most ostentatious of trophy hauls.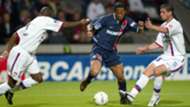 But for most football fans, titles are a rarity. For most, the game is about moments, those flashes in time that live with us forever. Ronaldinho gave Parisians little in terms of glory, but he more than made up for that in memories.
His slaloming dribbles versus Nantes and Marseille. The free-kick vs Rennes, his sumptuous chip versus Bordeaux, and his remarkable solo run and dinked finish versus Guingamp. They are what will be discussed when those lucky enough to have witnessed it all tell their children and grandchildren about their life watching PSG.
Ronaldinho spent his life seeking joy and providing inspiration, having learned at a very early age that life was short, that it could end in an instant and so must be lived to the fullest.
His older brother, Roberto, was a talented professional himself and was tipped to be a future star after breaking through with Gremio. Roberto's success was life-changing for the family, bringing an instant upgrade in their hitherto modest lifestyle.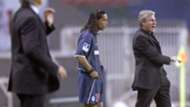 But tragedy hit when Ronaldinho was just eight-years-old. He returned home from football one afternoon to hear his father, Joao, had tragically drowned in the family's new swimming pool. Roberto's career would then be ended by a serious knee injury.
"When the money comes – and the pressure, and the critics – stay free," Ronaldinho wrote in a letter to his younger self this month for The Players' Tribune. "Play as [Dad] told you to play. Play with the ball."
Ronaldinho never stopped playing. He spent a career spreading the most infectious of smiles around the watching world.
Ligue 1 was fortunate enough to share two of those years with him. Two that will never be forgotten. Two of showmanship, cherished not for what he did, but how he did it.