U17 World Cup
FIFA U-17 World Cup 2017: Mexico announce 21-member squad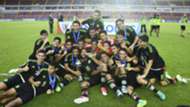 Mexico have announced the 21-member squad for the upcoming FIFA U-17 World Cup to be held in India from October 6 to 28. The two-time champions at the U-17 level will now embark on a preparatory tour to Malaga in Spain before making their journey to India for the mega-event.
Twenty-five players were first called in for a camp which began in June at the Centro de Alto Rendimiento (CAR) High-Performance Centre of the Mexican Football Federation (FMF) in Mexico City. 
After hosting a conditioning camp for a fortnight in the Torreon Municipality, Coahuila, the squad broke for a short vacation in the last week of August to return on 10 September at the CAR.
#Sub17 | ¡Estamos listos para la Copa del Mundo #India2017!
🔜🇮🇳🏆

Conoce a los convocados:#PasiónyOrgullo pic.twitter.com/BcdQ11oVgY

— Selección Nacional (@miseleccionmx) September 14, 2017
The announced 21-member squad comprises of three goalkeepers, seven defenders, seven midfielders and four forwards. It is worth noting that Diego Lainez, Roberto De La Rosa and Ian Torres,  the three key players for Mexico U-17 team as identified by Goal, has made it into the final 21-member squad. Here's the squad in full: 
Goalkeepers: Víctor André Alcaráz Díaz, César Iván López De Alba and César Rafael Ramos Becerra.
Defenders: Alan Maeda Luevanos, Luis Alejandro Olivas Salcedo, Oscar Haret Ortega Gatica, Carlos Alejandro Robles Jiménez, Adrián Vázquez Hernández, Sergio Villarreal Lozano and Raúl Martín Sandoval Zavala.
Midfielders: Luis Javier Gamíz Ávila, Carlos Eduardo Guerrero Zavala, Alexis Hazael Gutiérrez Torres, Diego Laínez Leyva, Deivoon Alexander Magaña Rico, Jesús Andrés Pérez Álvarez and Marco Antonio Ruíz Zarco.
Forwards: Ían Jairo Misael Torres Ramírez, Roberto Carlos De la Rosa González, César Saúl Huerta Valera and Daniel Guadalupe López Valdez.
C.D Guadalajara are the most represented club at Mexico U-17 National Team, with six players on their way to India.