United States
FIFA approves Saief's one-time switch to USA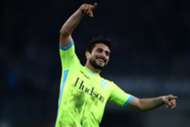 FIFA has approved Kenny Saief's application for a change of association, U.S. Soccer has announced.
'Mr. Dependable' Rowe earns U.S. chance 
The midfielder, who plays for Belgian club KAA Gent, was born in Florida but represented Israel at the U-19 and U-21 levels.
NEWS: FIFA has approved a change of association request for midfielder Kenny Saief .

Details: https://t.co/iUhwvkECh7 pic.twitter.com/7flrojSMlO

— U.S. Soccer (@ussoccer) June 22, 2017
After the change of association request was approved, Saeif is now permanently tied to the U.S. for international competition. 
Saief was named to the USA's 40-player provisional roster for next month's CONCACAF Gold Cup. The final roster of 23 players will be announced on Sunday.