World Cup
FIFA 18 World Cup update review: A Russian adventure worth downloading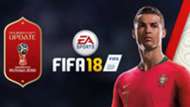 It may be coming to the end of its annual lifecycle, but FIFA 18 is still kicking and its latest free World Cup update set to release on May 29 is a very convincing reason to lose a few more hours to it.
As the football world prepares to turn its attention to Russia and the world's biggest sporting event, EA Sports have too as it takes FIFA 18 to the World Cup.
Having previously released standalone games for the tournament, EA have opted to treat fans to a free experience this time around and haven't skimmed on any of the detail. 
Not only does the update introduce a new feel to the game that often comes with each new annual release, it also provides a genuinely authentic and satisfying World Cup experience.
A taste of things to come
With each new FIFA release comes a number of mechanical tweaks that changes the flow and the feel of a game of football.
While at first frustrating, these changes usually result in a smoother more realistic experience. 
Though this World Cup update hasn't introduced anything fundamentally different on a gameplay level, new animations that make striking in particular feel more dynamic, have made this update feel pretty different. 
One of the producers of the update, Andrei Lazarescu, revealed why they opted against any wholesale changes but admitted that it will feel like a new experience for most players.
"We didn't change the gameplay for the update," Lazarescu told Goal.
"There are so many changes in the rest of the game, that the gameplay feels different – but it's just a trick of the mind.
"The reason we didn't change the gameplay is we wanted people to continue the experience they were having in FIFA 18 already. We wanted it to be easy to pick up and play."
Real-player motion technology has also been fine tuned with Cristiano Ronaldo looking almost indistinguishable from his real-life counterpart.
Sadly Australian players haven't been given the same treatment, with Socceroos captain Mile Jedinak even missing his trademark bushy beard.
More than just another game mode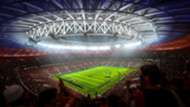 It doesn't come any bigger than the World Cup, and EA have done everything possible to translate that enormity to the TV screen.
While FIFA has always allowed you to play custom tournaments, they've never quite captured the feel that comes with them and this World Cup update goes out of its way to ensure that's not the case here.
From including all 12 official stadiums, the 32 qualified teams and actual advertisements from the tournament, to nationally authentic crowds and chants; FIFA 18 truly encapsulates every aspect of the tournament.
"We have tried to recreate the spectacle of the World Cup – it's the biggest sporting event on the planet," Lazarescu said.
Ultimate Team goes global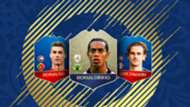 It's the mode that's taken the world by storm and now Ultimate Team will literally go global with a World Cup-themed version.
Balancing chemistry just got a whole lot harder as you attempt to lead your team to international glory using players from the 32 qualified teams.
Add to that mix a host of legendary icon cards like Ronaldinho and a new mix of player items related to the tournament, and you'll be getting pulled down the Ultimate Team rabbit hole very quickly. 
Final rating: 9/10 
It could have very easily been a separate game or expensive download, but EA Sports must be praised for providing an authentic World Cup experience for FIFA 18 fans that is well worth a download.