eSports
FIFA 18 Ultimate Team of the Week: Ibrahimovic & Aubameyang star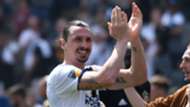 Zlatan Ibrahimovic and Pierre-Emerick Aubameyang feature at the head of FIFA 18's Team of the Week alongside Robert Lewandowski after another week of intense action.
Ibra took to his new club in Los Angeles in classic Zlatan style, netting a long-range wondergoal and nodding home from close range to ensure another debut to remember as he enamoured himself to US soccer.
Aubameyang also bagged a double, and receives bonus team-player points for passing on a penalty that would have sealed his hat-trick, the Gabonese instead handing the spot-kick to the returning Alexandre Lacazette.
Auba's old club Dortmund fell to an embarrassing 6-0 defeat in Der Klassiker, during which Robert Lewandowski - also a former BVB man - struck thrice to seal his place in EA Sports' 23-man squad this week.
Elsewhere, Dele Alli's Chelsea-killing antics at Stamford Bridge sees the England international take his place in the starting XI.
Sami Khedira and Juan Cuadrado feature as part of the Serie A contingent after the Old Lady's win over AC Milan at the weekend, but their inclusion will offer little consolation after a crushing home defeat in the Champions League to Real Madrid.
See the full squad below.
---
STARTING XI
---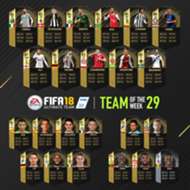 GK – Consigli – Sassuolo – 83>86
CB – Vestergaard – Gladbach – 79>82 
RB – Debuchy – Saint-Etienne – 78>84 
CB – Raul – SC Braga – 78>84
RM – Cuadrado – Juventus – 83>85
LM – Perisic – Inter – 86>88
CAM – Alli – Tottenham – 84>87
CM – Khedira – Juventus – 84>86
ST – Lewandowski – Bayern Munich – 91>93
ST – Aubameyang – Arsenal – 88>90
ST – Ibrahimovic – LA Galaxy – 88>89
---
BENCH
---
GK – Adan – Real Betis – 81>86
CB – Luis Hernandez – Malaga – 77>81
CM – Luis Alberto – Lazio – 80>85
CAM – Cabella – Saint-Etienne – 75>81
ST – Uth – Hoffenheim – 80>83
ST – Sio – Montpellier – 75>81
ST – Calaio – Parma – 72>82
---
RESERVES
---
CM – Carrillo – Millonarios – 66>76
CAM – Zulj – Sturm Graz – 65>75
ST – Edinho – Vitoria Sebutal – 73>79
ST – Osawe – Kaiserslautern – 68>76
ST – Badji – Colorado Rapids - 64>74