Euro 2016
Ferdinand: FA treat England players like babies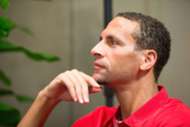 Former England captain Rio Ferdinand slammed the Football Association for restrictive treatment of players on national duty.

The 35-year-old represented his country on 81 occasions from 1997 to 2011, retiring in May 2013 and was in Brazil for the World Cup as a commentator, and recalled when the Netherlands squad were out at a bar.

Ferdinand was stunned by the Dutch players' freedom to roam, and slammed England's FA for their controlling tendencies on national team players in his soon-to-be-released autobiography.

"One evening we were in a bar at the hotel with Fabio Cannavaro, waiting for Christian Vieri to come along. All of a sudden almost the entire Dutch team turn up in this bar," Ferdinand wrote in his book, '#2sides'.

"I sat down next to Wesley Sneijder and said 'What's going on? Are you allowed in here?' He was like, 'Yeah, the manager said to go. As long as we're back in the hotel by 11, it's fine'.

"Our players are treated like complete babies.

"It doesn't really matter whether that's because people have made mistakes in the past, or the manager doesn't trust the players or he doesn't trust the media who would make a story of it.

"I don't think the Dutch media even mentioned it. Their players looked free and relaxed."