Premier League
Europa League is exactly where embarrassing Arsenal belong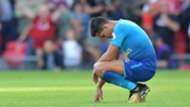 ---
COMMENT
---
No fight, no desire and no heart. The theme hasn't changed and neither has Arsenal's defending over the years as the Gunners succumbed to a dismal 4-0 defeat at Anfield .
There are some games where you can predict the outcome before it has even been played and Arsenal's defensive errors as early as the 17th minute let in Roberto Firmino for a headed opener.
Hector Bellerin, starting at left wing-back for the second consecutive game, looked out of his depth at times and gave away a shocking third goal to Mohamed Salah after taking a poor touch in his own half which allowed the Egyptian a one-on-one opportunity with Petr Cech.
Arsenal 7/1 to win the Europa League
From top to bottom Arsenal were an absolute shambles. Granit Xhaka has now made three errors leading to goals in his last three games. The Switzerland international was brought to the club for his ball distribution skills and ability to spread play, yet it is clear that Arsene Wenger's side are still missing a defensive midfielder to break up play and attacks.
"I've seen that movie before," said Arsenal legend Thierry Henry after the game. "I've seen that game before. You can a lose a game, but it's how they lose."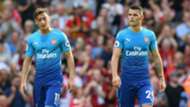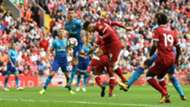 Wenger's decision to leave summer signings Alexandre Lacazette and Sead Kolasinac on the substitutes bench bemused many when the team news was announced before the match. Why start the likes of Alex Oxlade-Chamberlain, a player who has rejected a contract extension at Arsenal and looks set to leave, when you have hungry, new signings desperate for a chance to impress?
Indeed, Chamberlain's contribution at right wing back was limited and his lack of tracking back for Firmino's goal stunk of complacency, giving the impression of a player who doesn't want to be at the club. Wenger should do everything he can to sell the midfielder and despite his words of praise earlier in the week, the statistics speak for themselves: this is a player who offers little end product and has a measly nine league goals to his name in six seasons.
Gary Neville's co-commentary of the game was apt and echoed the thoughts of many Arsenal supporters around the world. Perhaps the saddest thing about Neville's comments is that it's taken a former Manchester United defender to know more about what it means to play for the Gunners than the Arsenal players on the pitch themselves.
With departures set to continue over the next few days, Arsenal could do with new additions of their own. Thomas Lemar, a defensive midfielder and a new centre back are all needed but if Wenger's words are anything to go by, it looks like the Gunners will be leaving themselves short in the transfer window yet again – emphasising why Europa League is exactly where they deserve to be.