England
Eriksson: Why 'tired' England will never win the World Cup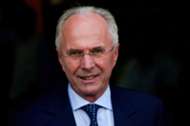 England have been warned by Sven-Goran Eriksson that they will never win the World Cup for as long as the Premier League refuses to introduce a winter break.
The Three Lions will go in search of global glory once again this summer, with Gareth Southgate the latest man to be charged with the task of delivering on expectation.
There is slightly less pressure on the current boss than Eriksson faced during his spell at the helm, with the Swede having worked with the so-called 'Golden Generation' between 2001 and 2006.
He suffered two quarter-final defeats on a World Cup stage and fears England will struggle to progress much past that point while players continue to be pushed to breaking point domestically.
Eriksson told The Offside Rule Exclusives : "In 2006 I thought we should win it, I thought there wasn't any team better than us, so that was a huge disappointment."
He added on the class of 2018: "I think they have a good chance and I'm positive they will do well. They have a lot of new young players who are doing great in the Premier League but they need luck with injuries.
"That's always a big problem for England, that and tiredness. I'll say it again, they will never win the World Cup if there isn't a winter break."
Pressed for any advice he would offer to Southgate, Eriksson said: "Do it your way, use your head, don't listen to other people and don't read the press."
Eriksson has spent time in domestic and international management since leaving the England post, with Manchester City, Leicester and Mexico among the sides he has worked with.
He is now 70, but there remains a desire on his part to stay in football and he has not ruled out taking ownership of a team at some stage in the future.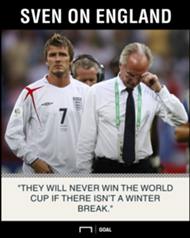 "I will probably go into football in another way. Maybe on TV," he explained. "Then I think about buying a football club somewhere, not in England, it's so expensive.
"It won't be in Sweden either because of the rules about club ownership. But, I am planning something which is going to be on a very low level in another country.
"I'm not quite ready to slow down. Football has been my life and I miss it. I miss the Saturday or Sunday afternoons when the adrenaline in the body goes up, it's just not the same watching it on the TV."