Super League
Elavarasan rues not capitalising on weakened Kedah side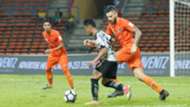 PKNS FC showed great character to recover from being two goals down at half time to eventually hold Kedah to a 4-4 draw in a Super League match played at Shah Alam Stadium on Tuesday night.
Matias Hadwa started the comeback in the second half with his first goal in the 56th minute before Lucas Espindola made it 3-3 in the 89th minute. Hadwa capped a spirited PKNS revival with an injury time leveller through the penalty spot.
In the post-match press conference, PKNS head coach E. Elavarasan admitted that his defence wasn't up to par in the first half but remained pleased that his side came out a different side in the second half.
"First half when we conceded 3 goals, we have to accept that our defence were too loose with our marking. In the second half, the players knew what they had to do and they fought until the end," said Elavarasan.
With Kedah missing the likes of Liridon Krasniqi, Zac Anderson and Rizal Ghazali – and having Fitri Omar, Baddrol Bakhtiar and Syazwan Zainon on the bench; Elavarasan felt it was a missed opportunity not to capitalise in what was a weakened Kedah side.
"It was a bit of a shame that we didn't take more from this because Kedah didn't have most of the best players today but the most important is for us not to lose today," added Elavarasan.
PKNS 4 Kedah 4: Late penalties see both sides share the spoils
With the result, PKNS are hovering only a point above the first relegation spot currently occupied by Sarawak. However, Elavarasan is under no impression that his side will be dragged into the battle to remain in the Super League.
"No, I don't think so [relegation]. With a few changes, the team will come back. We always know that we'll improve after this transfer window."
"This is game number 12 and we need to improve several departments. Even though the situation isn't good, the local player give 100% but we'll need extra to help the team better," explained Elavarasan.