I-League
East Bengal inform AIFF: 'Interested to play I-League matches at home ground'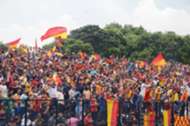 Kolkata giants East Bengal have sent All India Football Federation (AIFF) a letter on Saturday, informing them about the club's wish to play I-League home matches at their home ground. The officials from the governing body will visit the ground now to decide whether it has all the necessary infrastructure to host top-tier games. 
The outfit, which has seen massive turn-outs in the club ground during the Calcutta Football League (CFL), also informed that the work for installing floodlights in the stadium has started.
The East Bengal ground, situated at the vast green patch of central Kolkata known as Maidan, is owned by the Indian Army, who gave the green signal last year after Mohun Bagan - another occupant of the army area- started playing under the lights in their own ground.
With Salt Lake Stadium being renovated for the FIFA U-17 World Cup, the two Kolkata clubs had to play their home matches at Barasat, Kalyani and Siliguri in the last couple of seasons, which resulted in dwindling attendance.
However, the club ground is well connected with the suburban because of its proximity to Howrah Station and Metro Rail, and organizing matches there can significantly boost attendance, as has been seen in the ongoing edition of CFL.
While the Maidan is known for huge fanfare, it is also infamous for the regular crowd troubles. For example, earlier this week, after Mohun Bagan's draw against Rainbow, the players had to leave the ground in police vans, while missiles were hurled at match officials.
The grounds, over which the club management, state government and Indian Army all have some control, also lack many basic amenities like washrooms, drinking water etc. 
It's unlikely that AIFF will grant permission to East Bengal without prescribing an overhaul and it remains to be seen whether the side - which is desperate to win its first I-League ever - will be ready to make that investment.