Super League
PKNS boss Elavarasan admits his team's target is tough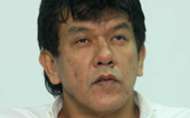 ---
BY         NIK AFIQ        Follow on Twitter
---
The head coach of PKNS FC, E. Elavarasan admitted that the target set by the management of PKNS FC on the squad is tough, but it is not impossible for them to achieve it.
The management wants PKNS to at least reach the top five in the Super League, as well as to capture at least one trophy this year.
According to Elavarasan, for a recently-promoted side like them, it will be tough but such targets can only spur the players on to reach the target.
"This season it will be tough for us. The target is to finish among the top five, and also to win at least one trophy in 2017.
"When you look at the teams in Super League, there will be teams that usually will finish at the top and teams that will finish top two or three every season.
"So for newcomers like us, such a target is really tough but we will try our best. When you have high targets, the players will do their best to reach it. Every team will have similar target like ours, so there's no pressure on us, said the coach following 
Elavarasan also said that his side's preparations for the new season is well on the way, but insists that the team will need time to create a better understanding of each other.
He also hailed former JDT striker, Safee Sali, who is gaining back his fitness and creating a good partnership with Patrick Wleh.
"Safee's partnership with Patrick is getting better. He's getting back the competitiveness as a player. He knows he will be in the first eleven so he's getting back his form."
"Patrick can also do a good job for us upfront. He is used to our style. But for the two Argentinian players, Gonzalo Soto and Lucas Espindola, it might take some time for them to settle down."
When asked whether the problem with their venue is disrupting the team's preparation, Elavarasan admitted that it is a setback for the team.
"We need to start well, but with this kind of problem, we are like nomads. Others have their own home grounds and home support but for us, everywhere (we play) is like an away game."
"We just need a good place and we will wait for the management to decide. I have no problems if we have to play in the late afternoon," added Elavarasan.
Elavarasan also insisted that his team have no personal issues with Selangor and his focus only on the game, and not on off-the-pitch issues that has happened between the two parties, namely the Selangor FA's attempt to block PKNS, its former affiliate club, from participating in the M-League.