Paul Pogba
Don't compare Pogba with Kante, says Conte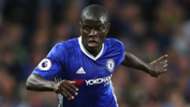 Antonio Conte has rubbished comparisons between N'Golo Kante and Paul Pogba because he believes they are very different. 
Chelsea ace Kante cost £32 million from Leicester City in the summer, while France team-mate Pogba, who has come in for criticism, left Juventus to sign for Manchester United for a record-breaking fee of £89 million.
Why Dembele is flourishing at Celtic
The Blues boss was asked to compare the two at Friday's press conference at Cobham Training Ground, but he thinks that the pair are so different that it is impossible to say who is the better player. 
"They are two different players with different characteristics," Conte said.
"Paul I have had the opportunity in the past to train, for many years. We are talking about a top player - a top player in all situations, even in his commitment to training.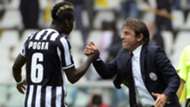 "He's always trying to improve himself, he has good technique, physically he's strong, great stamina. We are talking about a top, top player."
Manchester United will be without Zlatan Ibrahimovic after he was handed a three-game ban for elbowing Bournemouth defender Tyrone Mings last weekend. 
Pogba may need to step up and provide his team's inspiration in the absence of the talismanic striker, but Conte will not make special plans to stop the Frenchman in Monday's FA Cup tie.
"We are working to try to find the right solution for the whole team, not only for Paul Pogba," he continued. "It was the same against West Ham, when we played against Andy Carroll, and there were questions about whether we would try and stop him.
"For sure, we are studying Manchester United to try and find the right solution. Paul is a really good player and we must pay great attention to him, above all when he arrives in the box. But we must think about the whole Manchester United team. They're very strong."