Opinion
Defiant Plateau United out to prove critics wrong in the Caf Champions League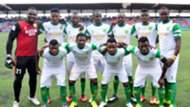 ---
COMMENT    By Solace Chukwu    

Follow on Twitter
---
A constant theme of Plateau United's rise has been the glee with which they constantly prove naysayers wrong. This weekend, they will compete in the Caf Champions League for the first time, and while there is little scope for a Nigerian winner anytime soon, they have already confounded critics by getting this far.
When Kennedy Boboye's side raced into an early lead in the NPFL last season, it was considered in many quarters to be a flash in the pan. The team had, after all, finished the previous season (their first since gaining promotion) in eighth place, twelve points behind eventual champions Enugu Rangers.
There were unkind parallels made with former NPFL side Taraba United, who had been promoted a year before and, after leading the pack in the early going, eventually suffered relegation.
There were also questions over Boboye's pedigree. Formerly of Sunshine Stars and Abia Warriors, the trainer's arc seemed to follow a pattern: bright starts followed by sudden capitulation, and then an inevitable separation.
Yet, the results kept coming, and Plateau kept winning games and picking up points in the unlikeliest places.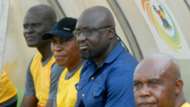 In a season that saw all the continental representatives (bar Akwa United) struggle, even with relatively early exits from the Caf competitions, Boboye's side made up 15 points on their total the previous season, defying all expectation to claim the title on the final day at the Rwang Pam Stadium.
Almost immediately though, the conversation took on a different complexion: that of their suitability to represent Nigeria.
Some of that is a deep-seated animus toward change which is pervasive in the Nigerian culture. Naturally, this permeates football. While the likes of Enyimba, Kano Pillars and Enugu Rangers are considered establishment clubs, the likes of Plateau United feel like upstarts, upsetting the established order.
There was also the angle of their ability to make an impact. More than most continental competitions, Caf's reward experience, as that can make all the difference in dealing with hostile away terrain and extreme changes in weather and culture, among other things. Being a first-time participant, it would almost certainly be too much to handle.
The realest reservation though was to do with playing style. Often, when an unexpected champion emerges, there is some curiosity as to their tactical set-up, and even imitation on some level.
Under Boboye though, Plateau do not seek to reinvent any wheels.
Their football is often, to put it mildly, lacking subtlety.
There is an inordinate level of prominence for left-back and human catapult Daniel James Itodo, whose Rory Delap-style throws are designed to cause chaos in opposing penalty boxes—a particularly effective strategy considering that, on the average, most Nigerian grounds are on the small side.
Hulking defender Elisha Golbe is a threat on set-pieces, and can take free-kick quite expertly. In Emeka Umeh, nicknamed 'Zlatan' – again, subtlety is not a watchword – they have hands-down the tallest striker in the league.
If this paints a picture of robust, physical football long on set-pieces and aerial battles, then it is an accurate imagining. While there is obviously no morally right way to play football, as a tactic, it is rather simplistic, and can be easily planned for and adapted to.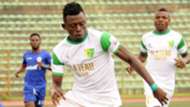 In fact, most experts predicted that, with better preparation and the element of surprise gone, they would have a harder time even defending their title this season, letting alone making any meaningful impression on the continent.
The season-opening NPFL Invitational in Kano in December seemed to confirm these prognostications: Plateau looked listless and ordinary, and in no shape to mount any sort of title defence.
Yet, seven games in, they are once again at the upper reaches of the table, a point off leaders Akwa United, and will go into their weekend with Cameron's Eding Sport high on confidence following a thrashing of Sunshine Stars last weekend.
It will certainly be interesting to see how their reductive style holds up on the continent, but on the evidence of their defiance of (negative) expectations at every turn, it now no longer seems a given that they will fail. If there is one quality that has come to define them in the last 15 months, it is the relentless ability to win in the unfussiest way possible.