Paul Pogba
Decision on Pogba surgery next week, reveals surgeon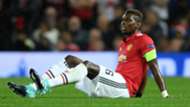 Manchester United midfielder Paul Pogba will find out if he will go under the knife to cure his hamstring troubles next week, Finnish surgeon Sakari Orava has revealed.
Oraval, who also worked on Barcelona's Ousmane Dembele, will hold talks with the France international over whether an operation would be best for him to get back on his feet.
Man Utd 9/1 to beat Palace 2-1
The 24-year-old suffered an injury in the early stages of Manchester United's Champions League win over Basel earlier this month, but may not necessarily need a procedure.
"His injury is a little different to Dembele because he can heal without surgery," he told HS. "A decision will be taken next week."
Orava explained why the injury probably came about. "This kind of problem is usually a sum of many coincidences and is affected by muscle fatigue as well as rapid stopping and quick turning, with the brain going quicker than the feet," he said.
The 72-year-old surgeon reckons he has conducted nearly 1000 operations on hamstrings and perhaps double that on Achilles injuries. Among his patients have been David Beckham and Dembele, who went under the knife for the first time under the Finn's hand earlier this week.
The Barcelona star's rehabilitation has been programmed at around three-and-a-half months following surgery, and Manchester United will hope Pogba won't be out nearly as long as his France team-mate.