MLS
Chris Wondolowski has no interest in MLS job opportunities once playing career ends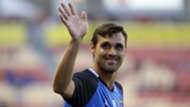 ---

2017 MLS SEASON PREVIEW
---
San Jose Earthquakes striker Chris Wondolowski is very frank when it comes to his post-playing career.
"I want to be involved in the game but not in MLS one bit," Wondolowski told Goal.
Acosta is a U.S. player to watch this year
Given that the striker has been such a mainstay in the league over the last decade, winning the Golden Boot in 2012, that may come as a surprise. But Wondolowski is very clear in his desire —  his role in the game will likely be limited the local, youth club level. Anything MLS-coaching related is out of the question.
As to why, Wondolowski provided a few reasons for his decision: "One, job security. Two, I want to live in California and if you're a coach in MLS, you don't know. And I've had a lot of years in this league and I don't want to do more."
The good news for Earthquakes fans is that Wondolowski isn't planning on stepping aside just yet. And why would he, says teammate Simon Dawkins, when he's still doing exactly what he needs to?
"We didn't do well last season and he still got 12 goals. He was our top scorer and still up there with the goal scorers in the league," Dawkins told Goal. "If he can continue to do that, I don't see why he needs to hang it up.
"Obviously, it will be his decision when he wants to, when he's probably had enough because his body's slowing down, but as long as he's scoring goals, I'd urge him to keep going."
Wondolowski doesn't need any urging. Despite now being 34 years old, the striker still feels like his body is ready for another campaign. While he admits some of the coaches want to help him take precautions in handling the rigours of the grueling MLS campaign with its long travel and hot summer environments, Wondolowski is confident his usual training will get him through.
More than anything else, he just wants the season to begin.
"I feel good, I feel excited," Wondolowski said. "I love where the team's at. I love the direction we're headed. I'm over the preseason now and ready for the real games to start because I'm really excited for it."
Talk of direction is not something to be taken lightly. Wondolowski's name became the center of discussion last week after his former U.S. international teammate, Herculez Gomez, blasted the Earthquakes for wasting a "generational talent," having just made the playoffs twice during Wodolowski's recent tenure.
It's easy to see how Gomez could arrive at that conclusion. Wondolowski's record speaks for itself. Over his last eight seasons since landing back with the Earthquakes after a stint in Houston, Wondolowski has 117 regular season goals and an MLS Golden Boot. He's picked up six team MVP awards and a third-place finish for the league MVP. He became the only player in MLS history to score 10 or more goals in six consecutive seasons in 2015 — and then did it again for a seventh straight year in 2016.
Such goal-scoring prowess is difficult to find. Combining it with that level of consistency has been exceptionally difficult in MLS. But Wondolowski, while thankful Gomez supports him, takes the opposite stance. While his numbers are good, the ultimate responsibility of titles and playoff runs falls on his shoulders.
"I appreciate Herculez having my back," Wondolowski said. "But it's more a sense that I haven't done enough because I've been on the field those years, for the last seven years, and I haven't done enough to get us to (a championship) and I've been the captain. So to be honest, I think a lot of that is on me — I haven't done enough necessary to be successful."
However, Dawkins might disagree with the striker's self-critique. The Jamaica international is hopeful the new Earthquakes forward signings, Marco Urena and Danny Hoesen, can pair well with Wondolowski, while midfielder Jahmir Hyka and Dawkins himself can create more chances for the striker to bang home the goals.
Beyond that, Dawkins speaks highly of the the things Wondolowski brings to the table that doesn't show up on the stat sheet.
"He keeps us together in the locker room and on the field as well," Dawkins said. "He brings his experience from all his years playing and also being involved in the national team as well. He's great with the younger lads."
Those intangibles are not just something Wondolowski is proving with his club team, but something he takes to the U.S. national side as well, and perhaps a big reason why Bruce Arena summoned him for January's camp.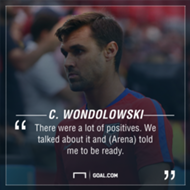 "It was good having a leadership role and talking to guys. It was a great opportunity to meet a lot of these young players and get to know them off the field as well," Wondolowski said of his time in the January camp. 
Wondolowski admits it was somewhat of a surprise to have received the call. He didn't know Arena or his staff well, aside from having been a thorn in their side in rivalry battles between the Earthquakes and LA Galaxy over the years. But Wondolowski appreciated the call, and credited Arena with "integrating" veterans and youngsters in the fold. He also revealed what the U.S. told him he needs to do to potentially be involved later this year.
"There were a lot of positives. We talked about it and (Arena) told me to be ready," Wondolowski said. "There are things I need keep trying to improve — hold up play, things of that nature, connecting passes and also being on the best chances when they come. So he told me to work on some things but keep doing what I've been doing."
However, Wondolowski isn't under any illusions that he's a lock to return to the national team in the future. It also isn't a prospect that is freaking him out.
"At this point in my career, it's not a huge worry," he said. "All I can worry and take of are the Earthquakes. I feel if we get off to a good start, and me personally as well, that would definitely help my case but at no point will I ever consider it a sure thing in the future."
What is certain is that Wondolowski will return to the Earthquakes in 2017, looking to extend his streak of double-digit goals in a season to eight. And while he is getting up there in years, Dawkins has seen improvements in the mental side of the game that has kept Wondolowski effective.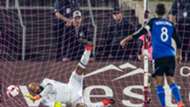 "He's always been a good goal scorer," Dawkins said. "I think even me coming back last season I've seen a lot of his movement - it's even better than it was in 2012. Obviously that comes with age and experience.
"Hopefully, we can get him scoring more goals this season."
Like Dawkins, Wondolowski sees the new Earthquakes attacking additions as exciting pieces and "some nice guys who can really add another dimension, especially in the opposition third."
And while he doesn't know when he will decide to move on from professional soccer and MLS, at the moment, he doesn't see any reason to leave just yet.
"Right now, I know I love coming in everyday," Wondolowski said. "I actually really enjoy practicing, going to practices and, to be honest, as long as I'm healthy enough to do that and I feel I enjoy it, I'm going to keep trying to do it because I really like it."