Guadalajara
Chivas-Cardozo relationship off to rocky start after another home loss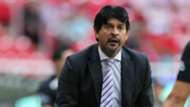 Chivas fans had a bit of hope after last week's 2-2 draw with Toulca. They got ready Sunday, headed to the stadium and lost most of that hope. The fans who did go deserve credit. It'd be understandable to save money for a trip to an away game in hopes of seeing a win. Chivas have won just one home match in the last three tournaments with Sunday's 2-1 loss to Santos Laguna the 11th defeat in the Estadio Akron since the start of the 2017 Apertura.
Losing at home is, like many of the issues he's facing, a problem new manager Jose Cardozo inherited when he took over the team in June. The season is only four weeks old, but Chivas already are sitting in the penultimate position in the Liga MX table. Cardozo, who was hired after Matias Almeyda left the club because of frustration with the front office, said he's already working with a sense of urgency as the Guadalajara side struggles to get points.
"We're all annoyed, but we have to correct it," he said after the match. "That's my work, and the coaching staff's, to try to get better, get stronger where we're weak and try to be really smart to be able to correct things as quickly as possible because we're already hurting,
"I don't think this is the position the fans or we (coaches) wanted to be in, the squad either. So, you have to try and get up quickly because there's no time now. There's no time left for anyone. So, you have to really smart from the coaching staff's perspective and also the players' to try and correct the little mistakes we're making."
Cardozo is right that Liga MX's short seasons provide little room for error. Still, the playoff dream is hardly dead. The club is only five points out of the eighth and final spot and has 13 more matches left to play.
Yet, the early returns have not been encouraging. While they may seem positive, Chivas' general director Jose Luis Higuera statements that there was no reason to think the club was going to make a rash decision is not exactly a sign that the club is willing to stick with the Paraguayan manager for the long-haul.
"We're all in the same boat. There's no reason to bid farewell to (Cardozo)," Higuera tweeted in response to a fan pleading for continuity rather than a quick firing. "He's working really hard. I'm confident in him and in all the squad. We're working to get back to the formula that gave us success. Remember that signings were 100 percent my responsibility since three years ago." 
Firing Cardozo would be harsh, but he has gotten off to a rocky start. His halftime substitution Sunday of Fernando Beltran for Javier "La Chofis" Lopez didn't do much to give Chivas the midfield presence they were missing in the first half and removed a player who had been one of the better players on the field and was yet to put a pass wrong. His double substitution to bring on Jose Macias and Diego Hernandez after Santos' goal smacked of reactionism rather than any sort of a real plan. Rather than adjusting proactively, Cardozo went to his bench in a panic, looking to rescue some sort of result at home. 
The moves also showed another big issue for Chivas, though. Cardozo turned to a 22 year old, an 18 year old and another 18 year old (who turned 19 on Monday - happy birthday, Diego) when he needed to make changes. Forward Alan Pulido was injured and midfielder Orbelin Pineda was suspended, leaving Cardozo shorthanded both up top and in the middle. However, there's simply no depth at Chivas. Almeyda was right to complain about the lack of options, and things only have gotten worse after a summer selling spree. Losing to a team whose manager up and quit this week doesn't make things better.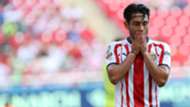 This is a club that is supposed to be the best in the region. It's the club that will represent Concacaf at the Club World Cup. It's the team that prides itself on being the most Mexican of all teams. Right now, though, it can't even fill out a full 18-man matchday squad with Liga MX-caliber players. Cardozo has to get the most he can out of a squad that's lacking. The saviors might be those young players. There have been encouraging moments from academy products like Beltran and Macias. Angel Zaldivar is now 24 but the academy product is now fit and has looked strong in attack. It may be time to give Hedgardo Marin another look or try something else out at the back because for all the good signs up front, center back continues to be a major position of concern.
Chivas' social media accounts giving a shout out to Athletic Bilbao after a fan pointed out the similarities between the Basque club and the Guadalajara side that signs only Mexicans only makes it more frustrating for fans. Other clubs are having success with an exclusive model. Chivas themselves did it not long ago. But things must get in gear for the club to have any hope of a dignified showing in Abu Dhabi or for winning a trophy in the near future to be anything more than a dream for their legions of supporters.