Chelsea
Chelsea star Bakayoko escapes injury after crashing car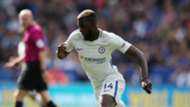 Chelsea midfielder Tiemoue Bakayoko was involved in a minor car accident on his way home from training on Thursday, but was able to walk away unscathed.
The 23-year-old, who joined the Blues for £40 million from Monaco over the summer, crashed shortly after leaving the Premier League club's Cobham training base.
No other vehicle was involved, with Bakayoko veering off the road in his Mercedes-Benz.
Images captured at the scene show his windscreen to have shattered and the roof of his car caved in.
He was, however, to avoid any serious injury and required no medical treatment.
A police statement read: "Surrey Police attended Blundel Lane in Oxshot around 4.40pm today following a one vehicle collision. The driver did not suffer any injuries."
Bakayoko's brother Namory recently revealed to The Sun that his sibling was struggling to get to grips with life on the road in England.
He said: "Tiemoue told me he wasn't allowing himself to drive because he thinks it's too crazy driving on the left! But he'll get round to it."
Bakayoko will be available to Antonio Conte on Saturday for a Premier League trip to Stoke.