Chapecoense
Chapecoense survivor takes first steps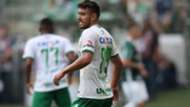 Chapecoense defender Alan Ruschel has released a video message to fans as he takes his first steps on his road to recovery.
Neymar gives Ballon d'Or verdict
The 27-year-old defender was one of the first survivors pulled from the crash that tragically claimed 71 lives, including 19 of his Chapecoense teammates.
Ruschel released a video from Somer Clinic in Colombia where he is continuing his recovery from his ordeal, and appeared taking his first assisted steps.
"I'd like to tell you all that I am recovering very well," Ruschel says in the video released on social media.
"I will soon come back to Brazil to finish my recovery. 
"I would like to thank all of you, for the support given and by the vows of affection that I also received, I just wanted to thank everyone, thank you very much."  
December 7, 2016