José Mourinho
Cech admits Arsenal are lacking a Mourinho winning mentality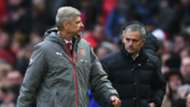 Petr Cech acknowledges that Arsenal are yet to embrace the win-at-all-costs mentality which has delivered Jose Mourinho so much success.
The Portuguese has collected trophies at a remarkable rate throughout his career, with triumphs enjoyed at Porto followed by many more at Chelsea, Inter, Real Madrid and Manchester United.
Cech worked with Mourinho at Stamford Bridge and admits that his demanding approach to management helped to raise the standard.
The veteran goalkeeper also concedes that his current side are still lacking a little on that front, although he believes progress is being made despite recent struggles in the Premier League.
Cech told So Foot: "When [Mourinho] arrived at Chelsea from Porto, he brought with him one main thing: he came from a club where it was not acceptable to him to finish second in the championship. He brought the same spirit to Chelsea. He thinks only about victory, whatever the price.
"He hates draws. If we returned to the dressing room with a draw, we knew he would not be satisfied. On the other hand, he also wanted be able to keep a 1-0 or beat a team 5-0 if possible. No matter how, Mourinho wants the result.
"The philosophy at Arsenal is completely opposed to this: it is not win at all costs but we want to win in a certain way. This approach is beginning to change."
Cech accepts that Arsenal under Wenger have a certain footballing philosophy that they refuse to waver from, with Liverpool boss Jurgen Klopp having previously compared their style to "like an orchestra".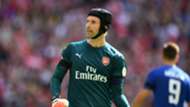 Cech added: "It is true that we are close to classical music, the beauty and the synchronisation of instruments. It is a philosophy now anchored in the genes of the club: they refuse to play without and it is passed on from generation to generation.
"I believe that the right balance has been found last months of last season. The idea is to continue to control the match but securing more behind."
He added: "We finished [last] season fifth with 75 points. The previous season, we finished second with 71 points. We must see how the Premier League has evolved.
"When I arrived, there was Manchester United, not still really Chelsea, City did not count in the title race, Tottenham either.
"Today, the competition is crazy. Winning a match becomes more and more complicated each season."
Arsenal have endured a tough start to their 2017-18 campaign, collecting just three points, but will get the opportunity to become upwardly mobile on Saturday when they play host to Bournemouth.