Transfers
Carrasso reveals collapsed Arsenal move before joining Galatasaray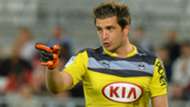 Cedric Carrasso claims he was set to join Arsenal during the summer transfer window, only to see the deal fall through.
After an eight-year spell with Bordeaux came to an end this summer, the 35-year-old Frenchman had been a free agent and says he courted offers from Sporting and Arsenal.
Gunners 13/10 for clean sheet Saturday
However, the one-time France international was left disappointed on both accounts before signing up with Galatasaray on the final day of the Turkish transfer window.
LATEST: #Galatasaray completes the signing of French goalkeeper Cedric #Carrasso! Welcome to #Galatasaray! pic.twitter.com/LY8qqdhfUQ

— Galatasaray EN (@Galatasaray) September 8, 2017
"I accepted Sporting's offer. Everything was OK, but the deal was thrown off," he told L'Equipe. "There was a problem with the agents involved.
"The same thing for Arsenal. Arsene [Wenger] wanted to operate with three good goalkeepers. I was supposed to go there as third choice.
"At the beginning, I said to myself: 'third choice to do nothing, that is not being part of a squad, that is not interesting', but then I told myself: 'It is still Arsenal!' 
"But then again there was a problem with agents."
The ex-Marseille player flirted with various clubs in Europe as he sought a new home and came close to moving to Scotland.
"I even visited the training ground of Hearts. I found it great in Edinburgh, apart from the salary. I was ready to cut my salary by half. At the beginning, it was very poor financially. Honestly. Like €4,000 a week."