Newcastle United
Ashley 'closest he has ever been' to selling Newcastle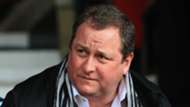 Newcastle United owner Mike Ashley has claimed he would like to sell the club before the new year.
The 54-year-old has made no secret of his desire to sell the club in the past, and has been involved in a number of high-profile failed takeover negotiations, most notably that of Amanda Staveley.
However, despite club lawyer Andrew Henderson last year stating that there were a number of 'credible parties' interested in purchasing the club from Ashley, none came to fruition.
Yet, according to the Newcastle owner, this time around he is more confident of striking a deal to sell the club.
"I'm very keen to sell it to the right buyer so that everybody's happy," Ashley told Sky Sports News. "That would be good news. 
"I'm hopeful – for the Newcastle fans, for the club, for everybody, that I will be able to step aside and we will be able to get an owner in that will please everybody."
The contentious businessman also claimed that, "talks are in a more progressed stage than they've ever been."
Ashley's tenure at the Magpies has been fraught with controversy, and most fans have grown weary at his lack of investment in the club.
However, the Sports Direct owner has claimed he would like to sell Newcastle before January, meaning a new buyer could provide Rafael Benitez with funds to spend in the upcoming transfer window.
The Magpies spent just an estimated £23 million ($29m) this summer on signings - around the same fee they received for selling striker Aleksandar Mitrovic to Fulham.
This has also led to reports that Benitez is considering his future at St James' Park and could leave the club when his contract expires next summer.
While Ashley did state he was hopeful of thrashing out a deal, he was eager to stress that a successful takeover bid is far from a formality.
"Realistic is maybe too strong a word," he said when asked how likely a deal was. "Hopefully we can carry on our recent good form and get the deal done."

In Ashley's 11-year ownership of Newcastle, the club have been relegated twice, have been involved in the controversial sackings of Kevin Keegan and Chris Hughton, and changed the stadium's name for commercial interests.