FA Cup
Arsenal fan calls for the head of the club's kitman!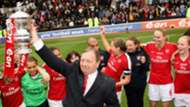 A case of mistaken identity, or just an extremely odd vendetta? The 'Wenger out' calls are nothing new at Arsenal - but now fans are turning on the kitman!
WATCH: Dembele's hilarious scrap
Vic Akers has been at the north London club for over 30 years, and is widely considered a Gunners legend for his work with the community and with the all-conquering Ladies team. 
He currently works as Arsenal's kit manager, and must have been surprised to see his name come up in a protest ahead of the side's FA Cup clash with Lincoln City. 
"Akers Out, Wenger out", a fan demanded in a photo that quickly did the rounds on Twitter, causing outrage and derision among fellow Gunners supporters. 
Does this moron know that Vic Akers is just the Arsenal kit man? pic.twitter.com/Zs9cYDJzmZ

— Arse&Nose (@Arse_n_Nose) 11 de marzo de 2017
Either Akers is paying the price for somehow falling short in his kit duties, or one misguided soul has him confused with some other guilty party at the underachieving Premier League giants - because as far as we know, and just like Arsenal's freshly laundered shirts, the kitman is squeaky clean.