Asian Cup Qualification
Amri unsure of call-up chances under new Malaysia head coach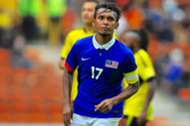 ---
BY        ZULHILMI ZAINAL       Follow on Twitter
---
When met by the press after playing his first match for Selangor upon his return to his boyhood club, against MISC-MIFA on Wednesday, Malaysia captain Amri Yahyah was posed several questions regarding the national team.
The 36-year old player was reluctant to comment extensively on the recent hiring of new Malaysia head coach Nelo Vingada, whose appointment was announced by the Malaysian FA (FAM) on Monday, claiming that he is unsure whether he will still be in the new boss' plans.
"That is the new (FAM) president, TMJ's (Tunku Ismail Sultan Ibrahim) discretion.
"I can't comment much on it, as I'm not sure myself whether I'll be in the new national team plans, which are up to the president and the new head coach," said Amri.
He also said that being led by a foreign head coach will not be a problem to the players, as long as they give their fullest commitment.
The Portuguese is the first foreign coach to lead the Harimau Malaya, since Hungarian Bertalan Bicskei left the post in 2005.
"If you ask me, every player has to focus (on the task), regardless of whether the head coach is a local or foreign one.
"We have to help the national team reach greater heights. The nationality of the head coach must not be made an excuse.
"Those picked to play for Malaysia must give their best for the national team," he explained.
When asked his take on the Asian Football Confederation's (AFC) recent decision to postpone the Asian Cup qualification match between North Korea and Malaysia again, the 2010 AFF Cup winner chose to view it positively.
"The postponement may give the new head coach more time to get familiarised with the Malaysia players.
"He can then form a more formidable team," posited Amri.