Young Africans
Yanga are boring and won't finish in the top 3, says Hans van der Pluijm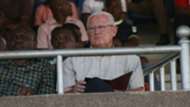 Singida United Head Coach, Hans van der Pluijm is surprised by Yanga's form this season and doesn't think his old side will defend their Premier League title.
Van der Pluijm told Goal that every day that the team loses matches, its quality reduces and losses its fear factor.
"I'm worried to see the success I have given the team has all gone away in such a short time, Yanga is a great team but what makes them so boring now is because the type of players they have signed do not have the quality to play for the team" Van der Pluijm said.
He further said the way things are going performance-wise for the Jangwani giants he doesn't see the team finishing the season in the top three and mainly because the players lack chemistry.
Yanga currently sits fifth in the league standings with 22 points from 13 games.