Arsène Wenger
Xhaka wants to win Europa League for Wenger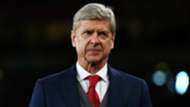 Arsenal midfielder Granit Xhaka wants to win the Europa League so Arsene Wenger can leave on a high.
Wenger announced on Friday that he would be standing down at the end of the season after 22 years as Arsenal manager.
The Gunners will play Atletico Madrid in the Europa League semi-final, with the first leg on Thursday, and Xhaka believes that success in the competition would be the perfect leaving present for the club's legendary manager.
"We have one month together now and we want to give him something special in this month," said Xhaka. "We want to take the trophy for him, for us, for the fans.
"Everybody knows what he has done for 22 years for Arsenal.
"We know as players if we have good results then nobody speaks about the boss but that is football, that is life, we must accept it going forward."
A Europa League win would also grant Arsenal a place in next season's Champions League - a competition that Wenger has failed to qualify for just once during his time as Gunners boss.
Xhaka was one of Wenger's most expensive signings at Arsenal with the club splashing out £35 million on the Swiss midfielder in 2016.
Though Wenger will be moving on from Arsenal, he has not announced that he is retiring from management and Xhaka hopes that the Frenchman takes up another job.
He added: "Everybody knows his quality, how players he has brought from nothing. I hope he will stay as a manager, we will see what happens."