Super League
Win against Red Giants brought "mixed feelings" for Selangor legend Durakovic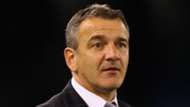 ---
BY        ZULHILMI ZAINAL       Follow on Twitter
---
Despite leading his men to a 1-0 away victory over former club Selangor in their Super League match, Perak's newly-appointed head coach Mehmet Durakovic said it was not a matter of revenge, and he had no ill-feelings towards the Red Giants.
The Australian won three back-to-back Malaysia Cup titles with Selangor in the mid 90's as a player. However when he returned there as head coach in 2014, he was then unceremoniously dumped by the management barely a week after leading them to the 2015 Malaysia Cup title.
However the soft-spoken Durakovic proved that he bore no ill-will towards the Red Giants, going around the Selayang Municipal Stadium to applaud the home fans right after the match.
And in the post-match press conference, the 51-year old admitted that the win, his first with Perak after three games, brought him mixed emotions.
"I've got mixed feelings to be honest, but it's nice to win. Even though it happened against Selangor, everybody knows it's in my heart.
"(I have) mixed feelings but I'm very happy," he explained.
When asked, he added that what happened to him at the Red Giants was part and parcel of football, and it was all water under the bridge already for him.
"This is part of football, we move on. I don't hold any grudges against anybody (at Selangor).
"Selangor is my state, Selangor is my team, (and) it will always be. But now that I'm the head coach of Perak, I'll do my best for them.
"This is football, this is my job, and we move on. But this is something special for me tonight," Durakovic said.
On the match, he told that his men managed to overcome the home side through their experience and quality.
"...Selangor are a young team, congratulations to all of them because they put up a good fight tonight.
"But I think the overall experience and the players that we have came through in the end," he said.
When asked about his thoughts on his new charges, Durakovic responded that he is still trying to get to know them, and vice versa.
"I think Perak have a not bad squad, I've just been here not even eight, nine days. I'm getting used to the players, they're getting used to me.
"So far I'm happy with the fighting spirit that they have, we're working on a lot of things now that we have a bit of time.
"There are a lot of things to improve, but we will fix them," he vowed.
However time may ultimately be of the essence for the Australian, as Perak's next match will be their third round FA Cup tie against current league leaders Kedah, next weekend.
"Everybody knows Kedah are a good side. They've been together for three, four years, they've been in two Malaysia Cup finals and won one Malaysia Cup. They know each other inside out.
"...It won't be easy but at least I can have a bit of a break this week (before the cup tie). So I'll get to know the players a little bit longer and better.
"We'll go back to Perak and concentrate on Kedah next week," he explained.
In the match, the home side were dominating possession and doing most of the attacking, until centre back Ugo Ukah was adjudged to have handled the ball inside the Selangor penalty area in the 67th minute, and was shown his second yellow and given his marching orders. The penalty was then converted by Zaquan Adha Abdul Razak for the only goal of the match.