Premier League
Wijnaldum: Klopp didn't kill us, we're like a family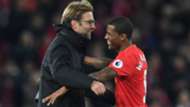 Mauricio Pochettino, having completed his post-match press conference, stopped to shake Georginio Wijnaldum's hand in the mixed zone while the player was mid-interview. 
It was a small yet significant show of respect and appreciation for the intelligent, incisive performance the Netherlands international delivered against his Tottenham team — the very kind the manager hoped he'd be supplying under his charge.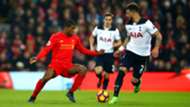 Spurs had made a strong play for Wijnaldum in the summer, which included the Argentine holding talks with the midfielder. They were reluctant to match Newcastle United's £25 million valuation, though, while he'd also been in conversation with Liverpool boss Jurgen Klopp.
The German's charisma as well as his care for Wijnaldum the person as much as Wijnaldum the player secured the deal. The Dutchman was convinced he wouldn't just be working with an ambitious, weighty manager, but one hugely supportive of his squad.
And with Liverpool having only recorded their first league victory for 2017 on Saturday, the authoritative 2-0 triumph over Tottenham following a wretched run in all competitions, he was intent on crediting Klopp's unwavering belief in them.
"It's really important," Wijnaldum said of the 49-year-old's constant reminder to his players of their capabilities and his confidence they would come good.  
"I think if a manager is saying the same things [that the squad is not good enough] in the situation we were in, that's killing for a team.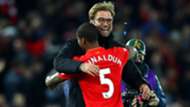 "That would kill the confidence of the players then, and that's not a good thing. When you're a team, you have to believe in each other — you're a kind of family. 
"And if one yours is saying you're not good enough, and the kind of things that the media have said, that would be a bad thing. 
"He believes in us — and I don't think he says this because he wants to keep the confidence up, I think he truly believes in us. This has given us a good feeling because he trusts us." 
Before the weekend, Liverpool's only win in 10 fixtures since the turn of the year came in an FA Cup replay at Plymouth Argyle. 
And Wijnaldum admitted they started to get wrapped up in the consequences of the defeats, which clouded their focus.
"I think in some situations, we put too much pressure on ourselves. That's why it [the run] went so long," he said.
"If you have a few poor games in a row, you're going to put pressure on yourself like 'we have to win this one or otherwise this, otherwise that,' and I think we were too busy thinking about the consequences than concentrating on the game.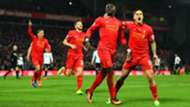 "This week we were only concentrating on Tottenham — how are we going to play against them, where we can hurt them and things like that. The focus was different than a few weeks before. That's only my opinion, I don't know what the other players think."
Wijnaldum accepts Liverpool need to ensure their riveting displays against the current top six, against whom they've not lost this season, is replicated against the others. The Merseysiders' four league defeats have been suffered against Burnley, Bournemouth, Swansea and Hull.  
"I think we've already done it in most of the big games, but in other games we didn't deliver," he said.
"That's the biggest problem of why there was a lot of pressure on us — because only in the biggest games we've shown how good we are. First half of the season we also did it in the small games, but December and January was not good months with a lot of games against 'smaller' teams."
Wijnaldum does not, however, feel that Liverpool were worn out by expectations of ousting Chelsea as league leaders.
"To be fair, I don't think we had the pressure of the title race, I think the pressure was more from outside — they put the pressure on the title race," he said.
"Of course you know if you have poor results then it's more difficult to win a title, but you still have second place, third place and fourth place — we must finish as best as possible until the end of the season now."