Ethiopia
Why Kwesi Appiah is motivated to beat Ethiopia on Sunday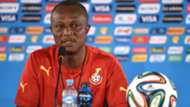 New Ghana coach James Kwesi Appiah has targeted a winning start to his second stint with the national outfit.
Following his reappointment in May, Appiah will be supervising the Black Stars for the first time in the 2019 Africa Cup of Nations qualifier against Ethiopia on Sunday.
The game is also of significance as it will mark the four-time African champions' return to Kumasi for the first time since their hostile reception after the disappointing 2014 World Cup campaign.
"I want us to start well and play well," Appiah said, according to KweseESPN.
"Ultimately, it will take time to make this team thick again but we can send the right signals tomorrow.
"Part of the idea is to win the fans back on our side; the reception in Kumasi has been encouraging. 
"Now we need to do our part by winning."
After Sunday's game, Ghana play away to Kenya in March next year before rounding off the first round at home to Sierra Leone in September.
The Black Stars, who finished fourth at the last Afcon in Gabon, are seeking to qualify for the continental showpiece for the 22nd time.