Premier League
Why Guardiola congratulated his Man City players after Chelsea defeat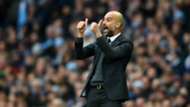 Pep Guardiola refused to blame Manchester City's defeat to Chelsea on his defence, and says he congratulated his players after the match for a good all-round performance.
City were beaten 3-1 at the Etihad Stadium on Saturday lunchtime but created a number of goal scoring opportunities and could have extended their one-goal lead before Antonio Conte's side roared back with goals on the counter-attack.
Guardiola had said in the build-up to the match that he was keen to see how his side would fare against one of the Premier League's top teams, and he believes they played better against the Blues than in victories against Crystal Palace and Burnley in recent weeks.
The Catalan says he told his players at Selhurst Park and Turf Moor that they have to play freely and attack the opposition, and he is happy that they did that against Chelsea, despite the eventual result.
"We were there, I think we were a good team," he said after the game. "But of course we lost. We lost. The second goal from a counter-attack, when we are winning we have to control a little bit more, in some cases be more aggressive, but it is the quality of our players to try to play.
"I am more satisfied the way we played today than for example the last two games away when we won, and maybe we were happy because we won, but at that moment I was worried because I said to the players, 'Guys we have to start to play better, like in the beginning of the season. Be free in your minds and play, be aggressive with the ball with the same personality, it doesn't matter what happens, just play and attack', and they did it, and I think personally did it quite well.
"But of course we don't win so always we have something to approve and my colleague Antonio Conte will be right. To analyse the performance, how I would like to see my time, it is like this. I like. I enjoy seeing my team [like this].
"That's why I congratulate them, because when I am not happy I tell them I don't like what we are doing, but today we did it. Football at that level, and the level in the Champions League, you cannot expect to have 15, 20 chances, it's impossible. We created a lot [against Chelsea] but the problem is you have to put the ball inside. [Thibaut] Courtois makes a good save. That is the reason why."
Guardiola, therefore, was not willing to blame his defenders for City's failure to win the match.
Nicolas Otamendi was out-muscled by Diego Costa for Chelsea's first goal and outwitted by the Spaniard for the second, while Aleksandar Kolarov was unable to cover and stop Willian firing past Claudio Bravo.
Eden Hazard added a late clincher following a long ball forward which left him clear on Bravo's goal, but Guardiola took issue when asked about his side's defensive issues.
"I think today we didn't lose for the defensive problems, believe me," he said after interjecting. "I think it wasn't the reason why." When it was put to him that Chelsea scored three times, he replied: "Well ok, you analyse three goals, ok, they scored three goals. So we talk about the game or the three goals? Three goals, yeah, three goals."
Neville slams 'idiotic' Fellaini
He did, however, admit that his defenders could be confused by his tactical demands and by how often he asks them to switch between a back three and a back four, whether from game to game or during matches.
"Yeah, maybe. Maybe."