World Cup
Who is winning the World Cup?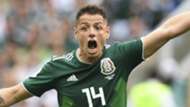 This World Cup's ad spend is projected to be in the region of $2.4 billion, up nearly a billion since the last tournament.
Big brands are throwing everything they have at the competition, which will be the most-watched sports event of all time.

With mega-budget adverts directed by Hollywood's best and staring footballs greats, social media takeovers, viral videos and PR stunts, these brands are all fighting it out for visibility.

Using your help, we want to know who will win this fight at the end of the tournament. Who gave you the content you loved? Which brand had the best social media presence? What brand will you think of when you remember World Cup 2018? 

First up, we want to know who amongst these giants is having the best World Cup so far.

Who is the Mexico and who is the Germany? Which brand have you noticed the most? 

Let us know by answering the four questions below...
document.write('');