Goal United
Poleaxing his Real Madrid chances - what is wrong with Euro 2016 disaster Lewandowski?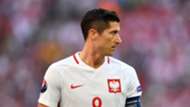 ---

COMMENT
---
Robert Lewandowski's record in front of goal has long been one of the best in European football. The Bayern Munich striker has just come off a campaign in which he has found the net 42 times, a personal best, yet he has thus far failed to shine at Euro 2016. Not only does the Poland ace not have a goal to his credit, he has not even mustered a single shot on target.
He was expected to be the spearhead to a formidable attack but instead it has been the rearguard of Adam Nawalka's side who have allowed the so-called dark horses to progress to the last 16, where they will tackle Switzerland in Saint-Etienne on Saturday afternoon. Poland have not conceded a single goal in the tournament through their opening three games, a feat matched only by Germany, but their performance against the world champions in a scoreless draw at Stade de France merited more.
Indeed, Poland would surely have claimed maximum points from that match had they been more confident in front of goal. Arkadiusz Milik was the chief culprit as he spurned some fine opportunities but the absence of Lewandowski as a threat in front of goal was concerning. 
Judging a player on one game against such high-level opponents is not necessarily a fair yardstick but the 27-year-old also flopped against both Northern Ireland and Ukraine, who left the tournament pointless.
This is most unlike the prolific Lewandowski, who has been linked with a summer transfer to Real Madrid. Not since 2011 has he failed to breach the 20-goal barrier in the Bundesliga, while he was the leading marksman in the qualification process as he registered 13 times, thereby proving that he has the chops for international competition.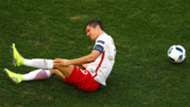 And though he has yet to score in France this summer, Lewandowski remains stoically backed by his coach, who remains insistent that the forward's contribution has been to the highest standard.
"Lewandowski's performance is always vital to our game plan. He hasn't scored but he's doing a lot of work," Nawalka explained prior to the Ukraine encounter.
"He is always thinking about the team and has played a huge role dragging defenders out of place and creating room for team-mates. He is in optimum form."
Certainly, he is more than simply the goal poacher as which he is often portrayed. Take, for example, his contribution for Bayern on the final day of the season against Hannover. With a glorious chance to find the net, he dummied the ball and allowed Mario Gotze a simple finish. He received no assist for the goal, having not touched the ball, but his vision made the strike. 
Such a moment is testimony to the fact that statistics can hide subtleties but they do not seem to be doing so at the Euros. Instead, most of Lewandowski's touches have come in the midfield, where it is acknowledged that he cannot be at his most effective.
"I haven't had any chances," he shrugged after the stalemate against Germany. A few days later against Ukraine in Marseille's Stade Velodrome, he was more dangerous as his side produced their flattest display of the group stages, but still emerged without a direct effort on goal. 
Despite the words of his coach, he is in "optimum form" only when he is scoring goals, regardless of his work elsewhere on the field, and while Madrid will not have been impressed with his summer performance, his track record means that he remains a viable proposition.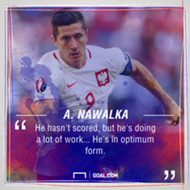 Poland's 4-4-2 system does not seem to be getting the best from Lewandowski but, equally, conditions are not ideal for him to succeed. Never before has he come into a competition shouldering quite such a level of expectation – even prior to Euro 2012, when his side co-hosted the tournament with Ukraine. 
Moreover, this is just his second major championship and comes off the back of a season in which he has played 51 club matches, more than at any other stage of his career. The numbers support worries about fatigue.
Poland may have kept three clean sheets in as many outings but, with the standard of competition set to rise, there are few who would back them to maintain such a remarkable record. After all, they conceded an average of exactly one per game in qualifying. If they are to win this competition, they need to start scoring.
Lewandowski is their most capable player in this regard. Jakub Blaszczykowski and Milik have scored their paltry two goals thus far but it is the Bayern man who remains their overwhelming threat. Ajax striker Milik may boast a better international strike rate but, as was displayed against Northern Ireland, he can miss several great chances before finding the net.
Like Cristiano Ronaldo, who suffered a similarly slow start to Euro 2016 before exploding against Hungary, Lewandowski may only need one opportunity to ignite. If he fails to do so, it can only lead to further complications for his country. 
Goal journalists are powered by the Samsung Galaxy S7 and Gear 360