Manchester City
What does the next decade hold for the Man City model?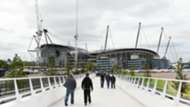 What next for Manchester City? Both on the pitch and off it, they are in an enviable position. Under the guidance of Pep Guardiola, contracted for another three seasons, City can hope for more of the stylish, record-breaking football that delivered the fifth league title.
And having become self-sufficient as a business, turning a profit every season since 2014-15, the possibilities for City and its affiliated clubs across the world are endless.
But while the club says it has quadrupled its global fan base since 2010, Guardiola's team will have to continue winning titles if they are to attract even more new fans and usher in the next major phase of the Abu Dhabi era.
City's decision makers insist they do not want to spend £200m on one player - despite the fact that they could quite easily manage it - and that is the approach to future development projects.
"We have planning permission to expand the Etihad Stadium, we will see the stadium expand at some point, where that is in the next 10-year journey is just not possible to say," says Pete Bradshaw, director of infrastructure and estates. "We'll expand it when it's the right thing to do for our football club, for our fans and our business, it has to meet the whole criteria of getting things right, we're not going to expand the stadium for the sake of it."
Instead, more modest projects are in the works for the acres of land around the Etihad; Manchester Metropolitan University will build a new faculty next to the stadium that will bring 3,000 full-time students to the area. City are also redeveloping the Ashton Canal route that links the stadium to the city, building or converting old mills into new apartments and freshening up an area that has fallen into disrepair.
It is a similar story in terms of global outlook; while many had expected a big CFG push into China, to either acquire or launch a brand new club, the realities have been different.
"If you look at the Chinese Super League, it went through a period of high inflation and enormous investment in player transfers, which brought up the valuation of clubs to numbers that we felt weren't realistic, and we started looking at alternative ways," Omar Berrada, chief operating officer, says. "It's a market we are present in, we just haven't made the level of investment that we have made, for example, in New York."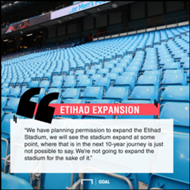 Berrada says the club are "open" to a New York-style expansion into a new territory, but only in the right conditions.
These new ventures are designed to develop local communities as well as to make money and spread the word of the CFG, and ultimately City.
"We used to laugh and joke when you used to see all the Scandinavians at Liverpool and a lot of tourists at United taking photographs," says Kevin Parker, general secretary of the official supporters' club. "We used to say that will never be us but the reality was they never wanted to come and see us because we weren't successful. Now they're part and parcel of what happens."
The pursuit of new fans poses challenges; not only in attracting and retaining their support, but doing so without overlooking, or at least annoying, loyal fans that have been going to games for decades.
City's determination to break new ground - they have an Official Robot Partner, the only one in football - opens them up to brickbats from rival fans and sometimes their own.
The club strives to offer supporters new services and opportunities, including the 'City Square' entertainment zone outside the stadium on matchdays and free wi-fi throughout the Etihad, and are currently in the midst of improving their communication with supporters regarding a range of issues. Yet for many fans, all of that is undone when ticket prices go up.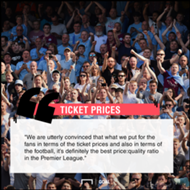 Prices rose again in May but many fans did not complain because of the relatively small amounts involved. Others, however, asked why such a profitable club needs to put prices up at all, especially if it's a couple of pounds per game. Is it that simple?
"It isn't," Berrarda says. "I think you have to look at the wider view of our ticket pricing. We still have the lowest season ticket price in the Premier League, we've had that £250 ticket since 2009-10, I think since then only once we didn't have the lowest price, when Stoke was £5 cheaper.
"We also need to continue growing, we need to continue also ensuring that the costs, which have an organic inflation rate, are covered, but we are utterly convinced that what we put for the fans in terms of the ticket prices but also in terms of the football, it's definitely the best price:quality ratio in the Premier League.
"I do think we are where we should be and our fans understand that."
Certainly, as long as City keep winning with style there will be few complaints, no matter the issue.
"A friend of mine went to the Huddersfield game and had an issue getting a pie or a pint," Parker says. "She likes to complain but we won 6-1 so she said she wouldn't be complaining because it was so good! She would have complained if we'd lost 2-1! That's the nature of football fans."
And if City do continue winning with style, the City Football Group will surely be set for another successful decade.