Super League
Westwood: The confidence is slowly coming back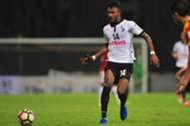 ---
 BY       OOI KIN FAI      Follow on Twitter
---
After not picking up a single point in their first six Super League match, the international break is coming up at just about the wrong period, just as Penang are starting to turn things around. Ashley Westwood collected his second point in Malaysian football as his Panthers side secured an important 1-1 away draw to PKNS FC on Saturday evening.
The former Bengaluru FC head coach was happy with the performance of his charges but rues that they were unable to find the winning goal. 
"The performance speaks for itself. We played quite well. I thought that we were the dominant side. It was a hot day but we looked like we had a bit more energy than them."
"We played at a 100% but if we could have dug in and found a little bit more, we might have found the win. We haven't lost for two games, so that's got to be an improvement," said Westwood in the post-match conference.
Not only that, his players also knew it was a lost opportunity to get their first win of the campaign and it showed in their emotions after the final whistle. A character which Westwood is proud about and hopes will help build his team to better things.
"The players are feeling a little disappointment. Which shows you that we've suddenly got a few winners in the side. They are disappointment because they feel that they could've probably won that," added Westwood.
Despite the point earned on Saturday, Penang are still down at the foot of the league table with just two points. However, they are only two wins away from 9th spot which can happen quickly when the league resumes after the break. Westwood is confident that his team are on the right track and will only get better as the season progresses.
"I think we just have to keep going and keep trying. The confidence is slowly coming back. Just believe in what we're doing, keep working hard and recover when we have the chance."
"We've got one more game to come in the cup and we won't play until the 31st. So we got a bit of time there to do a bit of hard work, get more organised and just keep looking forward," explained Westwood.
Against PKNS, Westwood fielded Syukur Saidin (25 years old), Syamer Kutty (19), S. Kumaarahan (20) and Faizat Ghazali (22) in midfield and were rewarded with a dominating display against their more experienced peers on the opposite side of the bench. The Englishman was proud of his young charges and intends to continue to give them the opportunity in future games.
"We are [happy with them]. They are still learning. They've probably made careless mistakes at times with misplaced passes but they've got energy and desire."
"We're brave to play them. Not many clubs play many youngster but we do. We try to improve players. We're taking a few chances but if we stick with our work ethics and beliefs, these players will keep improving and we'll get stronger.
"It looks like we've weathered the storm. So we'll stick to what we do and keep giving trust to the youth players," said Westwood.
Having broken the duck in midweek, Penang were certainly the far better side at Shah Alam Stadium. Playing under difficult circumstances with regards to the weather, the lesser experienced team were on top for large parts of the match. Their resilience to not let their heads drop despite going a goal down is commendable.
Penang will next face high-riding Premier League outfit, Negeri Sembilan in the FA Cup next Saturday.