WTF
VIDEO: Ironing Evra has a cure for your Monday blues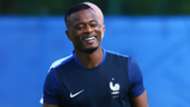 It might be Monday, it might be December, it might be cold, but Patrice Evra is here to cheer us all up!
The former Manchester United right-back is carving out a reputation for himself on Instagram as something of a happiness guru, and he has not disappointed with his latest effort!
Forget those winter blues and watch as Evra irons his France and Juventus shirts, before indulging in a little Barry White.
Trust us, it's so much better than it sounds…