Unai Emery
Unai Emery's Emirates challenge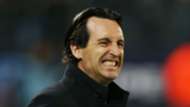 A new era had begun in North London as Arsenal fans woke up to find out that Unai Emery was anointed the chosen one to replace legendary boss Arsene Wenger. Wenger's 22 year reign is unusual in modern football but nobody can deny that 'Le Professeur' had revolutionised the game in England. His intellect combined with his footballing philosophy led the Gunners to high and lows but more of the latter towards the end of his career and there is no denial that Emery has sizeable shoes to fill.
Ivan Gazidis, chief executive of the English side mentioned how the Spaniard had impressed him with his in-depth knowledge of the game during the interview. Gazidis must have seen something special in the 46-year-old because there were notable names linked to the Arsenal hotseat including Carlo Ancelotti, Luis Enrique and Massimiliano Allegri. Meanwhile Mikel Arteta was somewhat of a favourite for the job too especially after serving as Pep Guardiola's apprentice.
But then again Emery is a coach of high pedigree with a track record of success and it can be said Arsenal have acquired a safe pair of hands. At Sevilla the man won three Europa League titles and his previous post at Paris Saint-Germain saw him dominate the domestic scene. However Arsenal represents a different challenge and he will need to overcome these issues if he is to be successful.
Arsenal's squad
It must be stressed that the Gunners' squad needs an upgrade starting with the disastrous defence. In his prime Petr Cech could have done no wrong but presently he represents a microcosm of what is wrong with the club.  Cech was culpable for far too many of the goals the club has conceded this season and at 36, he might only have a season or two left in him. David Ospina is a good backup but definitely not a starter.
Laurent Koscielny; a gem unearthed by Wenger is still a solid defender on his day but injuries could see him succumb to an early retirement. When he ruptured his Achilles tendon, a gaping hole was left at the back that the team struggled to fill.
Shkodran Mustafi is a World Cup winner but at times represents the world's clumsiest with his defending.  The German has been torrid and his naivety at the back has been costly for the North London side. One only needs to look at the Carabao Cup final to understand better.
Arsenal lack depth at centre-back and unfortunately neither Rob Holding nor Calum Chambers is the answer. Exacerbating Emery's situation is the fact that Hector Bellerin is a player regularly linked with a move away from the Emirates and someone who might attract a sizeable offer. The problem is there is not an obvious understudy ready for prime time. However at left-back Nacho Monreal seems reliable for one more season with sturdy Sead Kolasinac providing more than adequate cover.
Arsenal's midfield is abuzz with creativity however what they are sorely lacking is a reliable defensive midfielder. It must be stressed that this has been one of the main causes of their downfall. In the past the English giants had Patrick Vieira and Gilberto Silva to add steel into the midfield and give an extra layer of protection to the backline.
Although Francis Coquelin filled in that role for a short stint, his many deficiencies bubbled to the surface and he was sold to Valencia earlier this year. Granit Xhaka is definitely not a Vieira but with his skill-set he possesses the qualities of being a top deep-lying playmaker.
In attack Emery has a real conundrum. Pierre-Emerick Aubameyang and a fully fit Alexandre Lacazette showed in the few games they played together that it is not a case of either or but they can play together and score goals. Henrikh Mkhitaryan is prone to inconsistency while Mesut Ozil's languid performances have been a case of one too many.
Danny Welbeck may be limited technically but is a workhorse and Emery will definitely want him sticking around. Aaron Ramsey for his sake needs to know that when things are going badly a Hollywood pass is rarely the answer.
Emery's tactics
The 46-year old is a champion of possession based football typical of Spanish managers. During Emery's era at the Parc des Princes, PSG lined up in his favoured 4-3-3 formation. In attack Edinson Cavani was the focal point with Neymar and Kylian Mbappe being the wide men supporting him.
In the midfield, Thiago Motta assumes the defensive midfielder position with Marco Verratti and Adrien Rabiot lining up beside him. Motta more often than not drops to protect the two centre-backs and when this occurs, either Verratti or Rabiot takes up the space vacated by Motta and push forward. Emery encourages his full-backs to attack and his midfielders must be adept at playing through balls. Above all, PSG's players are often seen rotating the ball in central areas before bursting into attack.
Defensively, Emery emphasises his team to win back possession with the main objective of launching a quick counter-attack especially with the speedy wide men. The French champions under the Spaniard scored 108 goals in 38 games and had an average of 66% possession in Ligue 1. The former PSG manager's philosophy will suit Arsenal .Wenger in his later years introduced the 4-5-1 system with a focus on keeping the ball rather than lightning-fast counter-attacks. The added numbers in midfield helped Arsenal resist physical challenges and dominate possession. He sought to emulate Spain's internationally successful style in the Premier League. The club would be aesthetically pleasing but the winning habit was lost and there is no doubt Emery will be mindful of this.
The former Sevilla boss has the right tools to succeed if he can fix Arsenal's long-standing problems. Let's just hope the board is supportive of his reforms because in order for him to succeed there needs to be massive changes at the Emirates or Arsenal could find themselves looking for Arteta's CV.