Transfers
Tottenham future looks grim for Cameron Carter-Vickers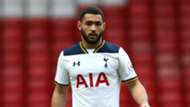 Not too long ago, Cameron Carter-Vickers looked like he might be the future of Tottenham's defense, or at least a player with a future as a center back for the English Premier League club. As recently as a year ago Carter-Vickers was an untouchable prospect Spurs wouldn't think of parting with, and as a teenage central defender, he was seen as a player who could potentially anchor the defense one day.
This summer, Tottenham has succeeded in planting some new seeds for the future of its back line, and it isn't looking good for Carter-Vickers to be a part of the team's long-term plans. Spurs landed highly-rated Colombian defender Davinson Sanchez from Ajax for $47.5 million last week, then on Tuesday announced the acquisition of Argentina Under-20 defender Juan Foyth from Estudiantes for $10 million.
That's more than $50 million spent on a pair of central defenders ages 21 and 19, signings that came shortly after Carter-Vickers was sent to League Championship side Sheffield United on loan. The loan move in itself seemed sensible enough. Carter-Vickers needed playing time after spending last year stuck on the bench with Tottenham's first team, but now with the signings of Sanchez, and especially Foyth, it appears Carter-Vickers may not be a part of Tottenham's long-term plans after all.
Yes, Spurs did sign Carter-Vickers to a new contract before sending him off to Shefffield United, but that can be easily explained as loan insurance because it allows Tottenham to ask for maximum transfer value if Carter-Vickers winds up playing well enough at Sheffield United to attract serious transfer offers. The new contract isn't much of a bother for Tottenham if Sheffield United, or any subsequent loan destination, is the one paying his salary.
How did Carter-Vickers stock drop at White Hart Lane? Reviews of his handful of cup performances with the first team last season weren't exactly glowing. He did have a strong showing at the Under-20 World Cup with the U.S. Under-20s, helping them reach the quarterfinals, but apparently that wasn't enough to convince Mauricio Pocchetino he didn't need to inject some new young blood into his center back pool.
"He can improve and learn a lot," Pochettino said of Carter-Vickers back in July. "He's a rotation player, yes. … But it's important that we're talking about a player who is so young and needs time to settle in the first team."
Instead of keeping him with Tottenham's first team, Pochettino chose instead to loan him out, a move that at first seemed straightforward enough before Tottenham started spending big bucks to sign central defenders in his same age range who very highly-regarded prospects.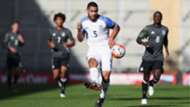 The fight isn't lost just yet for Carter-Vickers. He's still only 19, a very young age for a central defender, but if he can break through at Sheffield United and earn a starting role, he could revive his stock pretty quickly this season. Even if he doesn't do enough to ensure a future at Tottenham beyond next year, he can show potential suitors that he's ready for first-team action, and worthy of the transfer fee it will require to sign him.
American soccer fans will follow Carter-Vickers' progress closely, hoping his loan goes well so he can continue on what has long been considered an inevitable path to the U.S. national team. Jurgen Klinsmann called up the youngster for his last camp as U.S. coach, last November, but it will probably be a while before his next U.S. call.
Plenty has changed since last November, when Carter-Vickers was dressing for first-team matches at Tottenham, and U.S. fans were left imaging him breaking through the way Christian Pulisic did at Borussia Dortmund. Now, talk of the USMNT seems as premature as it always truly was, which is fine because it was always ambitious to think he was going to be a national team factor any time soon.
Right now Carter-Vickers' focus should be on earning a starting role at Sheffield United, and doing his best to show Tottenham, and the rest of Europe, that he's a young defender worth planning a team's defensive future around.