Lilian Thuram
'Trump is always seeking confrontation' - Thuram hits out at US President for spreading 'racism'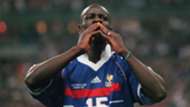 Former France international footballer Lilian Thuram has accused President of the United States Donald Trump of spreading "racism".
Thuram has been heavily involved as an anti-racism campaigner since he quit playing, setting up a foundation a decade ago.
Speaking in Rennes, at the National Conference of Citizenship, he hit out at the rhetoric of Trump, who recently made the news for allegedly branding El Salvador, Haiti and certain African nations as "s***hole countries."
"Trump is always seeking confrontation: blacks, whites, non-whites. Good countries, countries that are less good.  He's drawn a line between colours. Them and us. It's racism," said Thuram.
He also commented on the recent controversy caused by Atletico Madrid and France attacker Antoine Griezmann, who went blackface as he dressed up as a Harlem Globetrotters basketball player for a party shortly before Christmas.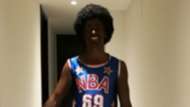 "It wasn't Griezmann who was the most important aspect of that," Thuram argued. "I don't think he acted with bad intentions. Nevertheless, there is no place for an act like this. And you have to explain why.
"Black, be they doctors, actresses, US presidents or footballers, are tired of being defined through their colour. I'm dark brown; my skin colour is not a disguise."
World Cup winner Thuram is not convinced things are changing fast enough in some quarters.
"When Blaise Matuidi, who plays at Juventus, was insulted in Cagliari on January 6, it was primarily due to his beautiful brown colour," the former defender explained. 
"I played in Italy in 1996 and there were fans there who made monkey noises. This means that in 20 years, education has not been totally effective. 
"To change things, it is the people who do not suffer racism who must intervene. That is, white players, white leaders, white supporters."
Thuram, who is now 46, enjoyed a successful playing career with Monaco, Parma, Juventus and Barcelona before being forced to retire due to a heart condition.