World Cup
The sad demise of Argentina and Barcelona legend Mascherano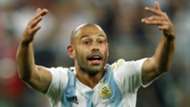 It was an iconic image. Javier Mascherano, bloodied and bruised, somehow symbolised Argentina's agonising victory over Nigeria which saw the team advance in extremis to the second round of the World Cup.
For many, it was further evidence of the heroism of one of the nation's greatest-ever players. Except that Mascherano is not so much of a hero on the pitch any more – and he almost cost the Albiceleste their place in the last 16.
So long a defensive shield in front of the back line for Argentina, El Jefecito  made his debut for the national team before even appearing for his first club, River Plate, and when Diego Maradona was coach he famously spoke of his line-up as "Mascherano and 10 others".
That is how important he was and how key he has continued to be over the years. In the World Cup in Brazil four years ago, it was Mascherano's steely performances in midfield and Lionel Messi's magic which saw Argentina come within a whisker of claiming the game's greatest prize.
But that was then. These days, Mascherano is a shadow of that player and his decline has been on the cards for some time. It was evident, in fact, as Spain passed around him in the disastrous 6-1 friendly defeat for Argentina back in March.
Never blessed with pace, Mascherano is even slower now and in central midfield, he is being exposed. Croatia, like Spain in March, ran rings around him, while Nigeria also bypassed him on many occasions in Tuesday's game.
His commitment can never be questioned, but he is having to resort to cynical fouls now after being caught out of position or when playing catch-up. "Some of the rough play from our most experienced players was shameful; Mascherano, [Nicolas] Otamendi..." former World Cup winner Osvaldo Ardiles wrote on Twitter after the Croatia game.
Mascherano could easily have been sent off in that match and against Nigeria, he gave away the penalty that allowed the Super Eagles back into the match after Messi's magnificent opener, when he pulled defender Leon Balogun to the ground.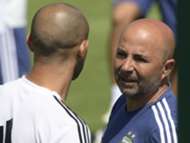 It may have been something of a harsh decision, yet it also summed up his evening. "Mascherano is having something of a nightmare," former England striker Gary Lineker noted on Twitter. And if anything, that was an understatement.
"It would have been a shame to ruin the dream for these guys who are here fighting," an ever-honest Mascherano said afterwards. Thanks to a fantastic late winner from Marcos Rojo, it did not come to that. But it could have, and France will present another altogether more difficult test for the 34-year-old.
In that match on Saturday, he will come up against his former Barcelona team-mate Samuel Umtiti, the man who hastened his departure at Camp Nou after seven and a half seasons with the Catalan club.
Mascherano was never the right fit technically for Barca's midfield, particularly with Sergio Busquets around, but he found a way to be important in defence and was a true leader for the Blaugrana.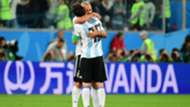 He remains a leader for Argentina, too, and his presence has been fundamental in these turbulent times as he has served as the link between the squad and under-fire coach Jorge Sampaoli in important conversations over team selection and tactics.
In the dressing room, he is as important as he ever was. But on the pitch, that is no longer the case and if he is playing anywhere for Argentina, it should be in defence. Because in midfield, his legs cannot keep pace any more and his distribution is not good enough, either.
Once the lynchpin as well as the leader of this great generation of Argentina players, he will undoubtedly be earmarked as the weak link by France ahead of Saturday's last-16 clash. And when Argentina's World Cup dream finally dies, it will be time for him to step aside.
Because time, as the saying goes, waits for no man. Not even a legend like Javier Mascherano.