Videos
WATCH: Tantrum-throwing Vietnamese keeper slapped with two-year ban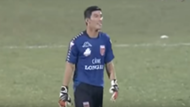 Remember these guys?
Long An FC's players threw an almighty tantrum at the end of their clash with Ho Chi Minh City in the Vietnamese top tier when the referee called a penalty in dubious circumstances with the game tied at 2-2.
Goalkeeper Nguyen Minh Nhut turned his back on the spot kick, ensuring an easy conversion, while his fellow team-mate downed tools and allowed their opponents to score an additional two goals, with the match eventually ending 5-2 in farcical circumstances.
It has since then emerged that keeper Minh Nhut's actions has seen him slapped with a massive two-year ban, with team captain Huynh Quang Thanh handed a similar sentence.
Intent on making an example of Long An, the Vietnamese FA didn't stop there, suspending coach Ngo Quang Sang for an even longer period of three years. Reports claim the club's chairman also left his post following the farce.
Henry advises Rooney over China
A statement since released by the VFF (Vietnam Football Federation) reads: "The players disrespected the decision of the referee and caused damage to the reputation and honour of the Vietnam Football Federation."
The memory of Minh Nhut's amusing 'roly poly' evasion tactic for the fourth goal may last a while, but one feels the banned keeper's bank balance will not.