Transfers
Standard president: We won't sell Sa...unless PSG offer €220m!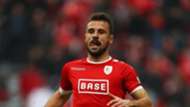 Orlando Sa is pretty valuable to Standard Liege – so much so, in fact, that the club's president has jokingly said he's worth the same amount as Neymar.
The Portuguese striker scored 14 goals in 21 league appearances for the Belgian side last season, leading to reported interest from abroad. 
Neymar, Coutinho & Mbappe all to leave - 7/4
At 29-years-old and with just one cap for Portugal, the former Fulham and Reading forward likely wouldn't fetch a massive transfer fee in the open market.
Still, Standard's president has made quite the demand for any potential transfer.
"Neither the coach nor the sporting director nor wants Orlando Sa to leave," Bruno Venanzi said in an interview with l'avenir.net.
"We told him we were counting on him. He is not transferable ... unless PSG pays us 220 million," Venanzi said with a smile. 
After PSG pay that amount for Neymar , we'll have to wait and see if they will be willing to break the bank again for Sa!