Transfers
Sources: MLS market for John Terry has dried up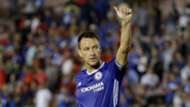 John Terry is set to close the curtain on a storied career at English powerhouse Chelsea, and will set his sights on a new employer this summer. Sources tell Goal Major League Soccer won't be the next destination for the 36-year-old defender.
Terry to leave Chelsea at end of season
One MLS official has confirmed to Goal that interest in Terry has waned, making a move for the central defender this summer virtually impossible. The source confirmed that multiple teams had expressed some interest in Terry a year ago at a price in the $750,000-a-year range, which would have been near the top of MLS salary scale for non-designated players. A year later, with Terry having spent the bulk of the current season stuck on Chelsea's bench, that interest has faded.
As much as MLS has a reputation in some circles as a league that goes after aging European stars, the league has generally avoided spending big money on older defenders. Rafa Marquez was an exception when he signed with the New York Red Bulls in 2010, but he was 31 in his first season in MLS and was initially signed as a midfielder.
MLS has become a popular destination for aging former Chelsea players in recent years, with Didier Drogba, Frank Lampard and Ashley Cole all having played in the league — with Cole still playing for the LA Galaxy. Of the three, Cole is the lone defender and took a considerable pay cut to make the move to Los Angeles.
MLS teams could certainly find room for Terry if he were willing to play for a modest (by European superstar standards) salary, but with the big-spending Chinese Super League potentially being interested in his services, it appears highly unlikely he would take a big pay cut to play in MLS.
MLS teams have more money to work with, and more mechanisms with which to sign a player like Terry — such as targeted allocation money — but Terry's age and inactivity, coupled with his expected price make him a poor fit for MLS at this point.
There are teams that would make sense as potential destinations if Terry could be had at a steep discount, such as the Portland Timbers and Minnesota United — two teams that are in the market for central defender depth — but Terry's next move seems unlikely to steer him toward major pay cut.
MLS Wrap: NY reaping academy rewards
Does that mean Terry can't wind up in the United States anyway? Not necessarily. Terry's long-time Chelsea teammate Didier Drogba recently signed with U.S. second-division side Phoenix Rising of the USL, and is serving as part owner as well. A Terry-Drogba reunion in the desert might make some sense, depending on how much money the club's ownership group is capable of investing on its push for an MLS expansion team.