United States
Solo: Video dispute contributed to U.S. Soccer dismissal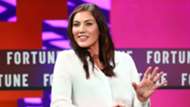 Hope Solo has levied another charge at the U.S. Soccer as she runs to become the federation's next president.
The former women's national team goalkeeper is one of eight people running for the unpaid position, which has been held for the last 12 years by Sunil Gulati. Gulati is not running this year.
Solo has been vocal about the federation's failure to address accessibility issues, including pay-for-play, but has also touched on the relationship between the nation's top league, Major League Soccer, Soccer United Marketing (SUM), which handles media rights for both the league and U.S. Soccer, and the federation itself. She filed a complaint last week to the U.S. Olympic Committee over her charge the federation ignoring its responsibility toward youth development for the benefit of MLS and SUM. 
Solo spoke of her own experience with SUM and U.S. Soccer when she questioned a promotional video using her image that ran prior to the 2016 Olympics without her permission and for which she did not see any royalties.
"I didn't see a dime of [money from the video]," Solo told the Guardian. "I started to ask questions and told them I didn't approve the video to go public before the Olympics. I started to get emails back that were complete attorney jargon basically saying 'Hope, this is above your pay grade'. Basically, shut your mouth and play soccer.
"That is when I knew I was barking up a tree they didn't want me to bark up. Pretty soon after that is when [USSF] fired me for — quote unquote — saying the word 'coward.'"
The U.S. women's team lost to Sweden in the quarterfinals of the tournament on penalties. Solo's contract with U.S. Soccer was terminated soon after and she was suspended from the national team for six months. She never appeared for the national team again and eventually came to a settlement with the federation over her termination.
Many of Solo's questions revolve around the SUM/MLS relationship and the veil of secrecy surrounding it — something she claims to have first hand experience with through the collective bargaining negotiations between the women's team and U.S. Soccer.
"Throughout our negotiations [for the Collective Bargaining Agreement], players — as well as US senators [Feinstein and Murray] — asked SUM and U.S. Soccer for full financial disclosures from SUM and they absolutely refused to give them to us," Solo said.
Solo specifically called out Kathy Carter, the president of SUM who is considered one of the front-runners for USSF president, saying: "You were the one responsible for not divulging the full financials of SUM when we directly asked you for them, as well as representatives of the United States Senate.
"This relationship [between US Soccer and SUM] impacts all of us. It is so convoluted."
The election for U.S. Soccer president is set to take place February 10 at the National Council Meeting in Orlando. Other candidates include Carter, former U.S. national team members Eric Wynalda and Paul Caligiuri and NBC analyst and former player Kyle Martino.
Solo has received public endorsements from outside the federation, including from Japan national team women's captain Aya Miyama and the Portuguese Football Players' Union.