WC Qualification Asia
Socceroos boss speaks ahead of Iraq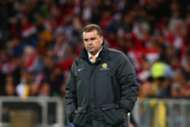 It's about us, not them. That's the message from Socceroos coach Ange Postecoglou ahead of tonight's crucial World Cup qualifier against Iraq in Tehran.
"No, I don't think they can beat Australia, because I'm the Australian coach," Postecoglou replied at the official pre-match press conference when asked if he thought Iraq could emerge victorious tonight.
"If I thought that, I wouldn't be in my job.
"We're expecting a tough game and we expect a tough game every time we play, but when we're in camp we talk about Australia.
"We talk about our team, we talk about our football," he said.
RESPECTING OPPONENTS
"We respect every opponent, sometimes maybe it works in our favour that other teams maybe don't respect us, but we'll see that on the pitch [on Thursday night].
"We're Asian champions, we've qualified for the last three World Cups, we want to qualify for our fourth World Cup and we're going to a Confederations Cup.
"We concentrate on ourselves and if we play our football, we don't fear anybody."
GALLERY: Socceroos up the intensity in training in Tehran - https://t.co/Sr97aqZEb7 #GoSocceroos #IRQvAUS pic.twitter.com/EBEH429gv0

— Caltex Socceroos (@Socceroos) March 22, 2017
IRAQ'S APPROACH - AUSTRALIA'S RESPONSE
"What we saw when we played them in the first game in Perth is that they tend to sit pretty defensive and not open up too much.
"We've seen that with just about all the teams we've played against.
"Whether because they have nothing to lose they become a little bit more attacking, either way, we'll be prepared.
"From our perspective it's always great if a team does open up a little bit against us because it gives us a chance to play our football. 
"But if they decide to sit back, we've got plenty of practise against that as well."