Sebastian Giovinco wins Goal's 2016 MLS MVP award
It shouldn't have been controversial. Sebastian Giovinco should have been on Major League Soccer's list of finalists for the 2016 Most Valuable Player award.
Instead, the Toronto FC star was left off the league's official three-man shortlist. New York-based trio Sacha Kljestan, Bradley Wright-Phillips and David Villa were the last men standing when MLS announced the finalists, leading to a small outcry as Giovinco was snubbed despite putting up numbers that should have seen his name etched on the Landon Donovan trophy for the second consecutive year.
Goal's top five MLS MVP candidates
We're here to right that wrong.
Consider that he was well on pace to shatter his own record of combined goals and assists in a single season (38) until an injury sidelined him from August until October, and he still led the league for combined points in 2016 (17 goals and 15 assists). On top of that, Toronto fell from a bonafide Supporters' Shield-caliber side at the time of his groin injury to one that finished the regular season in third place in the Eastern Conference, which illustrates just how important he is to his team's fortunes.
There's little doubt that Giovinco has been an offensive force since joining the league ahead of the 2015 campaign, but a slightly deeper look into the stats shows just how valuable he has been to TFC. Of the 51 regular-season goals Toronto scored this season, the 29-year-old was involved in 32 of them. That means he was directly responsible for 62.7 percent of TFC's goal production.
Further to that point, Opta says Toronto created 52 big chances over the course of the campaign, with Giovinco responsible for 17 of those (32.7 percent).
His torrid form has continued into the postseason as well, with Giovinco posting four goals and four assists in just five games so far this year. It's little wonder that TFC has shattered the MLS playoff record for goals in a single season, with Giovinco and Jozy Altidore leading the line on their team's historic run to the MLS Cup final.
For the second straight year, Sebastian Giovinco has won Goal's MLS MVP award.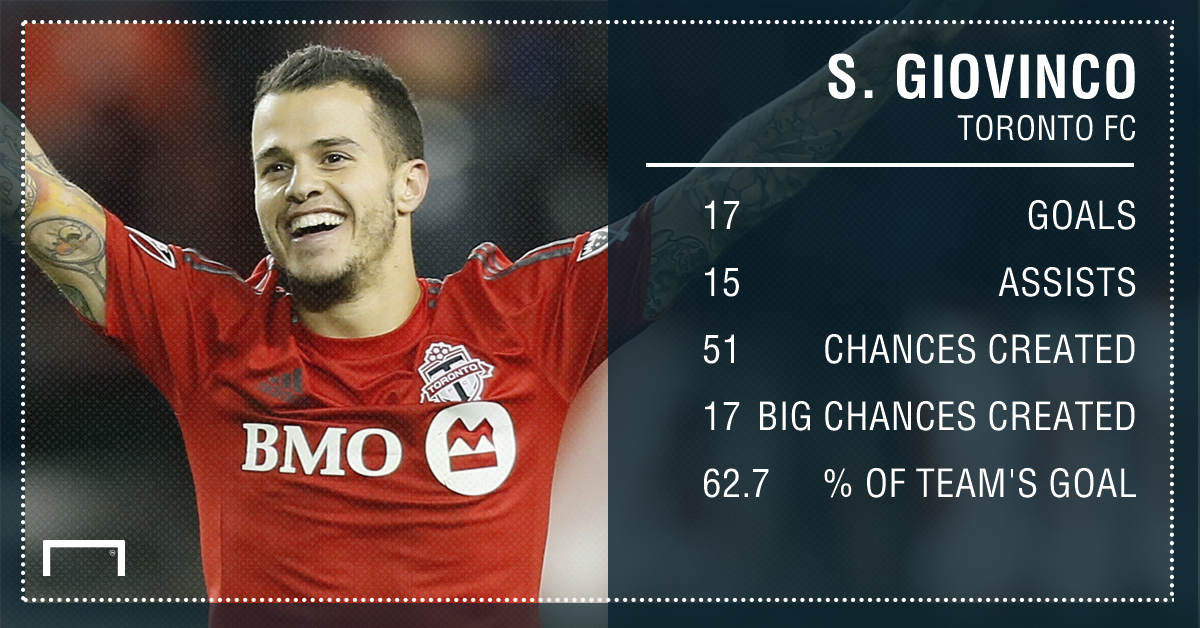 Honorable mention
Bradley Wright-Phillips: The first player to score 20 or more goals in separate MLS seasons, BWP grabbed his second Golden Boot Award in 2016 on the back of 24 goals for the New York Red Bulls. The 31-year-old posted a 28.9 per cent conversion on shots taken, and made good on 57.7 per cent of his big chances.
Even more impressive? Not a single one of his goals came from the penalty spot.
David Villa:  Second to Wright-Phillips in the Golden Boot race, there's little doubt that NYCFC would have finished as high as it did without Villa's exploits in front of goal. The Spaniard had a big chance conversion rate of 46.2 percent, while he also chipped in four assists.
Sacha Kljestan: The league's assist leader in 2016, Kljestan was an integral part of the Red Bulls' run to the top of the Eastern Conference. His 20 assists and six goals are the easiest numbers to point to, but the 31-year-old also created 106 chances and boasted a 69.9 percent passing rate inside the final third.
Ignacio Piatti: With 17 goals and six assists to his name, Piatti once again showed that he's among the elite attacking players in MLS. With Didier Drogba's star fading in Montreal, the 31-year-old became the focal point of the Impact's attack in 2016. He boasted a 47 percent big chance conversion rate, and he scored a goal every 166 minutes.