Chelsea
Sarri: Kante should be 'proud' of alleged tax decision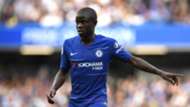 Maurizio Sarri lauded N'Golo Kante after he read allegations from Football Leaks that the midfielder opted against using an apparent tax avoidance scheme.
Kante increased his weekly salary from £150,000 to £290,000  after renewing his deal until 2023  on Friday, and French outlet  Mediapart has claimed that he chose be paid in the UK, rather than through a company in Jersey.
Mediapart claimed Kante's tax advisor said: "N'Golo is unflinching, he simply wants a normal salary," with the a move calculated to have cost the World Cup winner £1m per year in earnings.
Sarri admits to having read the allegations and, although he doesn't know if they are true, he believes that it is typical of a player who is known to be humble and moral.
"Of course, I think that I am really very proud of him for the salary [decision]," Sarri told reporters at Cobham Training Centre. "I didn't know it. I read it yesterday or two days ago. N'Golo is this. He is like this and I am very proud of him."
Sarri has been implementing Kante in a more advanced role as he radically overhauls Chelsea's formation. The news of his new deal came ahead of Chelsea's press conference to preview their huge upcoming clash away to their fierce rivals Tottenham Hotspur.
Sarri joked that after his new deal, Kante now must pay his bill at David Luiz and Willian's swanky new London restaurant "Babbo". ​Luiz had previously said that Kante is the footballer who tries to escape paying his bill in a promotional interview with Chelsea TV.
"I'm really happy with the new contract. Clearly very pleased for him," Sarri added. "And it's a very important news, I think. I know that David told something about him, that he doesn't want to pay the bill in the restaurant. So he has a flaw like everybody.
"But I think he is a really professional player, very professional on the pitch and off the pitch. He's very important for us in the defensive phase, but he is improving in the offensive movements. Now he has to improve in the last 25 metres. He can score more."
Chelsea will hope they can renew Eden Hazard next and they have plans to complete a new deal for Antonio Rudiger in the near future , after having already given new contracts to Pedro and Marcos Alonso.
The importance of the contract renewals seems higher on the agenda for Sarri than the signing of new players, as he is reluctant to make many new signings ahead of the January transfer window.
"Not at the moment," Sarri said about planning new signings. "No, no. I believe in another football. It's impossible to recover only via the market. Maybe you are able to buy two or three very important players, but maybe one is not suitable for your team. So it's not easy, also, by the market. We have to work."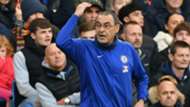 Elsewhere, Sarri said he welcomes the return of Claudio Ranieri to English football, as his new club Fulham take on Southampton this weekend before facing Chelsea next week.
Sarri invited Ranieri to Chelsea's training ground this season after he was sacked by Ligue 1 side Nantes, and has said the former Leicester boss is deserving of another shot in England. 
"For Ranieri because he deserves a new chance in the Premier League," Sarri said. "He stayed here with me for three days one month ago. He is really a very great man, I am happy for him."