Premier League
'Rooney looks like he's finally burnt out'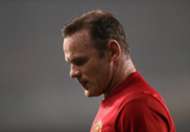 Former Republic of Ireland midfielder Eamon Dunphy feels that Wayne Rooney will no longer be the Manchester United hero of old, and claims the England captain looks "burnt out".
'Arsenal pressure too much for Mkhitaryan'
Dunphy, who has also been critical of Zlatan Ibrahimovic's performances, insisting the Swede is now too old to perform at the highest level, believes the current crop of United players will struggle to reach the top four, and singled out Wayne Rooney as another player who should no longer make the cut.
"Rooney looks like he's finally burnt out. He hasn't been a first choice for Mourinho for a few weeks," Dunphy told RTE 2fm.
"And he's never played in his correct position. When Mourinho arrived, one of the first things he said was that Rooney is a goalscorer, a number 10, and that's where he'll play.
Gerrard turns down MK Dons to consider other offers
"And he hasn't played there at all. I think you can forget Rooney in terms of saving the day for Manchester United. He was a marvellous player, but he's not going to be that anymore.
"I think they've got an awful lot of work to do to get into the top four. I don't think they will.