Wayne Rooney
Rooney, Beckham and Lineker lose £700m tax case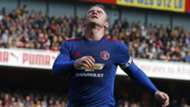 Wayne Rooney, David Beckham and Gary Lineker have lost a legal case over a £700 million tax bill.
City's Van Dijk move hinges on Mbappe
The Manchester United star and former England internationals were among around 1,400 people who invested in a film financing scheme called Ingenious Media, with a large number of footballers said to have signed up.
Those investing in Ingenious had to put in at least £100,000 with the guarantee that they would be given tax breaks of 100% should any losses occur. 
The scheme was investigated by Her Majesty's Revenue and Customs (HMRC) and ruled to have taken advantage of reliefs by reporting artificial losses, insisting that only 30% was tax deductible.
That 2016 decision was upheld this week, as the illegitimate scheme is said to have avoided £420m of taxes and will have a further £280m added in interest.
"We are pleased that the tribunal has agreed with us that the vast majority of what was claimed in tax relief by Ingenious investors was simply not due," a spokesman from HMRC said after the ruling.
Messi to get his own theme park
Meanwhile, a spokesman for Ingenious said an appeal is imminent: "We strongly disagree with the tribunal's clarification of a technical matter from its summer 2016 ruling. It is wholly unsatisfactory that the tribunal reached this decision with 'misgivings and reluctance'. We will be appealing the entire decision of the tribunal."
Fellow British celebrities Jeremy Paxman and Bob Geldof are also among those to have participated in the scheme.