Mexico
Rising Mexico stars uncertain about European future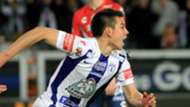 The future is uncertain for two Mexico national team players but it likely will involve playing for European clubs.
Olympians Carlos Salcedo and Hirving Lozano said this week that their focus is solely on the Mexican national team. El Tri is facing a busy summer including a pair of World Cup qualification matches and the Confederations Cup in June and the Gold Cup in July, though both players are likely to be part of the group Osorio takes to Russia and be off-duty in July.
The latest Mexican soccer transfer rumors
Salcedo, whose contract option won't be picked up by Fiorentina after playing fewer than 400 minutes for La Viola, said he hopes to stay in Europe rather than returning to Chivas.
"I have offers that must be analyzed to see what's best for me, my wife and my family and see where we want to aim for. But my idea is to continue there in Europe," Salcedo told reporters before joining up with the national team.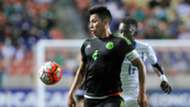 And while reports indicate Lozano's club Pachuca already has struck an agreement with Celta de Vigo, the player himself said he isn't sure if the reports of his move to the La Liga side are true or not.
"You have to manage the situation really well, be very calm," Lozano told reporters. "The truth is they haven't told me anything, if the Celta thing is true or not. Right now I'm with the national team and I have to be concentrated on what's happening here. I came to give my best."
Lozano played in Mexico's friendly defeat to Croatia, while Salcedo likely will make his first appearance of the summer for El Tri in Thursday's friendly against Ireland.
Midsized player -