A-League
Popovic upset with another decision against his side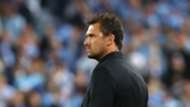 A disallowed goal for Dimas' in Saturday's 0-0 draw with Adelaide had Western Sydney Wanderers' manager Tony Popovic frustrated with the officiating once again. 
Liverpool rob the rich, but give to the poor
The Spaniard's goal came after a goal-mouth scramble but was waved off with the official calling a foul during the play. 
Popovic was furious at the call during the match, even getting a talking to from the referee. 
After the game the manager wouldn't say what was being said during the game, but let his frustrations be known. 
"I just don't want (say) to because it's too many times," Popovic said.
"It's all year, it's every week.
"It's a clear goal, it's a legitimate goal. And he found a way for it not to be a goal."